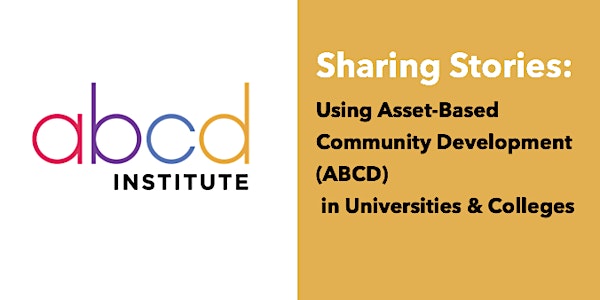 Building Capacity for Authentic University-Community Engagement
The ABCD Institute is hosting a series of virtual story sharing sessions on Asset-Based Community Development and Higher Education.
About this event
Join us for our July 2022 Storytelling Session:
Building Capacity for Authentic University-Community Engagement
Presenter's Description: We will present an ABCD case study on an innovative program that sought to overcome the barriers between a private urban university and adjacent neighborhoods that have been historically oppressed. Foundations of Community Building brought university faculty and staff, community-based organizations, and neighborhood residents together to develop capacity as community builders, and build relationships of trust between campus and community. This led to Case Western Reserve University establishing its first Neighborhood Advisory Council in 2021. In this session, we will share what we learned, as well as best practices in ABCD and ongoing challenges in our efforts to strive toward authentic university-community engagement.
Presenter:
Mark Chupp, PhD, Case Western Reserve University
Gwendolyn Garth, Cleveland Artist, Activist and Neighborhood Advisory Council Member
Julian Rogers, Case Western Reserve University
JP Graulty, Case Western Reserve University
About the Series
Between January and May 2022, The ABCD Institute will host a series of virtual story sharing sessions on "ABCD in Higher Education." The series will showcase examples of how faculty, staff, and students at universities and colleges are intentionally doing - or trying to do - their work using an asset- or strengths-based approach, within their institutions or in their work with community partners.
Stories might include programs, initiatives, or short-term projects that illuminate successes and challenges. This is not limited to best practices and could include efforts that have been difficult at best.
Stories - along with associated tools and resources - will then be compiled and shared through an ABCD Institute publication, edited by the ABCD in Higher Education Work Group. All storytellers and session participants will be invited to join the work group moving forward.
Upcoming Sessions: 
Sign up for ABCD Institute event announcement list to receive information about future events. 
About the ABCD Institute
The Asset-Based Community Development Institute (ABCD) is at the center of a large and growing movement that considers local assets as the primary building blocks of sustainable community development. Building on the skills of local residents, the power of local associations, and the supportive functions of local institutions, asset-based community development draws upon existing community strengths to build stronger, more sustainable communities for the future.
The ABCD Institute is a nonprofit organization located in Chicago at DePaul University's Irwin W. Steans Center.