Building Business Through Relationships

Monday, October 22, 2012 at 6:00 PM (PDT)
Event Details

Calling all Entrepreneurs, Change Agents,
and Creators of a Better World...

               Are You an Entrepreneur or Business Professional                Who Wants to Build Your Business by Design and Have The Financial Freedom to Do What You Love While Sharing Your Gifts with the World?
Finally, a business-building tele-seminar to help you
intentionally build your business to new levels of growth to
drive your message and offer your gifts to the masses.
Introducing...
Building Business through Relationships 
Virtual and Live Training 
Monday , Oct 22-Nov 5th , 6:30p.m. - 8:00 p.m.
Bonus  LIVE event Nov, 12th 6:00p.m-9:00p.m  
 Pleasanton, CA 
Facilitated by Sahar Kordahi,  
Founder of The Bright Side of Life Community
Dear Bright Entrepreneurs,
You're here because you know this Virtual and Live Building Business Through Relationships training is just for you! It is specifically designed to propel you and your business to new heights and new stages--from re-defining your Divine Network (the people who you are meant to serve) to developing the strategy of using the power of networking to drive your message to the masses.  You'll learn to become a "Networking Master" in simpler, faster, and more effective ways.
In addition, you will be learning and practicing The Art of Intentional Networking to build stronger, deeper, and more passionate connections in your business and life.
You're here because you know you want to intentionally chart the course of your business vs. 'winging it' and to live your journey, take center stage in your life, and contribute your gifts to the world while being handsomely rewarded along the way.     
This business building training is for you if you are an entrepreneur, change agent, or desire to be the creator of a better world.  It's for you if you are a coach, speaker, author, consultant, seminar leader, internet marketer, or business professional looking to design a successful, thriving business based on your expertise, knowledge, and passion.
It is also for those of you who already have reached a high level of success and seek to expand and create a significantly bigger presence within your own network or industry, those who want to find new prospects and opportunities, attract new clients, and make A LOT more money.
Get ready to take advantage of this exceptional opportunity to build your business by design, explode your visibility, while making a positive difference in your business and the world.



Why did Sahar Kordahi create 'Building Business Through Relationships' Virtual and Live Training?
Over the past six years, I have coached hundreds of entrepreneurs and business owners from every background.
I have also hosted hundreds of  live and online events promoting national and international speakers, coaches, and trainers.    I have presented and spoken on over 100 stages to thousands of people in California and overseas.
As Oprah would say, 'one thing I know for sure' is that many entrepreneurs and business owners are looking for results-focused opportunities designed to equip you to build your business using your unique design.
So I understand why you want to do this. You want to share your greatest gifts, enjoy a sustainable livelihood, and be of service to your perfect clients who benefit from your brilliance.
On the other hand, while you may know that you have the greatest gift and brilliance to share with the world, you may feel like you don't have the cutting-edge mindset, conditioning techniques and community support to accomplish your goals.  Or, you may feel like you don't have the tools and resources to monetize your passions and gifts in order to fully embrace your role as a business owner.
Well, I KNOW you are here to share your special talents and gifts with your ideal clients.
So on Octobler 22, 29, and November 5th I will be launching a tele-class to support you as you share your gift with your ideal clients and make a difference in the world.
Here is what you will discover when you join us for this content-rich, interactive 'Building Business Through Relationships' training:
Cutting-edge intentional networking tools for creating memorable relationships for your business.
The 3 most common mistakes that entrepreneurs make when defining their ideal market (and most importantly, how to avoid these mistakes).
Powerful and effective ways to ask for business.    
How to generate unlimited leads with ease and turn them into paying clients.
What your inner security system is telling you about who you should work with rather than who you want to work with and how to avoid self sabotage while building your business (with guest NLP expert, Dr. Gary Salyer) 
The best online and offline client "Keeping in Touch" systems that are available for entrepreneurs who want to keep lasting relationships with their local community and desire to reach out to create or expand their global communities.
"Your life is a mirror of your relationships, 
and every person in your life is a mirror of you."
Know who your "Divine Network" is i.e. those who you are meant to serve.
Find where 'your people' hang out off line..
Become a "client magnet " – in simpler, faster, and more effective ways.
Learn The Art of Networking for building stronger, deeper, and more passionate connections in business and in life.
Discover cutting-edge intentional networking techniques for creating relationships that are magnetic and memorable
Find powerful and effective ways for asking for business and support 

Learn how to fill your events with your Divine Network 
See what others have said about Sahar's Business Builiding Traning and workshops 
Meet Sahar Kordahi
 Community and Business Builder and Founder
of the Bright Side of Life
Sahar Kordahi, founder of The Bright Side of Life Community, is a Community Builder and speaker who has devoted her business to assisting women create powerful communities all over the world.
The Bright Side of Life began quietly in 2008 with six members meeting in Sahar's family room. Sahar's vision of gathering like-minded women from diverse backgrounds to collaborate and build community in their personal, business, and global lives has now grown four years later to include more than 300 members.
Her mailing list has more than 18,000 readers and she is widely known in the Bay Area for her powerful Networking and Community Building MBA Training programs.
In 2009, Sahar was named Women-Owned Business of the Year by The Women's Initiative for Self Employment.
Sahar has been featured in The Wall Street Journal and her work has aired on the stage of Sir Richard Branson in front of 8,500 people in Australia. She also participated in a Dr. Wayne Dyer movie, her business has been showcased at Maria Shriver's women's conference, she has spoken at global telesummits with visionaries such as Deepak Chopra, Marianne Williamson, and Indira.
She has been recognized by major corporations such as Chevron as a community leader who is making a difference.
Sahar is devoted to the success and happiness of her clients, spending time with her two daughters, enjoying walks and connecting with nature, photography, traveling the world, and creating inspirational sessions with her monthly women's gathering, "The Bright Side of Life."
Topic: "The Art of Intentional Networking"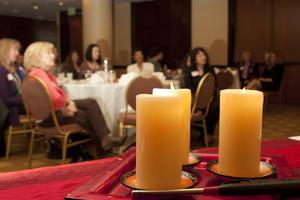 Take advantage of this unprecedented opportunity and Register Today!
Remember, you're not just learning powerful business-building techniques—you're experiencing it all within the nurturing environment of The Bright Side of Life Community.
Space is Limited, so Register Now
This venue is extra intimate, so we have less space than usual. With such an inspirational lineup of speakers, this event will fill up quickly.  So if you want to experience networking with enlightened business owners and professionals collaborating and working together in a supportive community...

And learn empowering information that will explode the visibility and profitability of your business…
Then click below now to reserve your seat.
 Do You Want to Be a sponsor at our events? 
Email Michele Bowen at BrightSideVendor@gmail.com 
TheBrightSideofLifeCa@gmail.com 
www.TheBrightSideOfLifeCenter.com 
Organizer
Sahar Nafal, Founder of the Bright Side of Life
Building Business Through Relationships