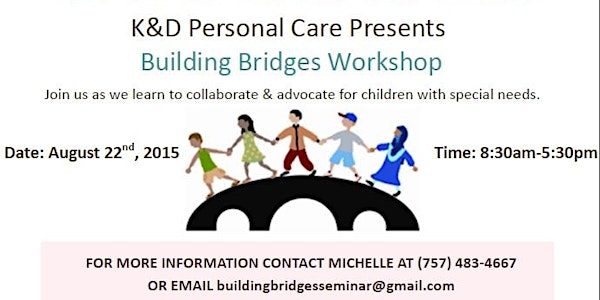 Building Bridges Workshop
When and where
Location
Plan Bee Academy 4500 Peak Trail Chesapeake, VA 23321
Description
Parents as well as caregivers of children with or without disabilities share a common concern about their child's education, health, and general well-being. However, parents of children with disabilities often face additional obstacles that include lack of acceptance within the educational settings and the fact that the child's disability often overshadows their abilities. This workshop will inform parents and caregivers of children with disabilities on how to better advocate for their child's educational needs. This event will strengthen the participants' ability to collaborate with leaders in the special education setting. This workshop will allow participants to gain valuable information and have the opportunity to network with other parents, LEA representatives, and professionals in the field.
Presenters and Topics:
The Use Of Restraints And Seclusion In Virginia: A Personal Story: Heather Luke of Maryland
The practice of secluding or restraining children when they get agitated has long been a controversial practice in public schools. National Public Radio (NPR) recently worked with reporters from ProPublica, an investigative journalism group, to compile data from the United States Department of Education to gather one of the most in-depth looks at the practice of seclusion and restraint. Ms. Luke will discuss her personal story that was published by NPR and ProPublica, which pushed Virginia lawmakers to create a law on restraints and seclusions.
SEIZURES: The Natural Healer:Tracie Holmes-Thomas of Virginia Beach
Virginia Gov. Terry McAuliffe signed legislation in Feb., 2015 that allows the use of medical marijuana oil for people suffering from severe epilepsy. Tracie Holmes Thomas's son Caleb is one of three children in a trail for the use of cannabidiol or oil THC-A oil and will discuss the Pro's and Con's of its use.
Medicaid Waiver: What is it and how can it help me?: Amy Trail and MichelleTaylor of Virginia
This presentation will give an overview about the services available under Consumer Directed Medicaid funded waiver programs. You will learn how to use theses to ensure your child receive proper in-home care.
Top 10 Pitfalls Faced When Advocating for A Child With Disabilities: Lois Manes (Special Education Attorney),Crystal Shin- Director of the William & Mary Law School's Special Education Advocacy Clinic; , Heather Luke (Special Education Advocate), Amy Trail (Special Education Advocate), Dr. Jeffery Katz (Licensed Clinican Psychologist and National ADHD Expert).
This panel discussion will cover some of the most common pitfalls made when advocating.
Building Bridges With Your LEA Representatives: Dr. Hickman (Director of Special Education in Suffolk, VA), Janice James-Mitchell (Director of Special Education in Norfolk, VA), Craig Pinello (Director of Special Education in Chesapeake, VA), Robert Jamison (504 Compliance Specialist in Virginia Beach, VA).
This panel discussion will focus on the importance of "Building Bridges" with parents, teachers and administrators when advocating
A Special Thanks to our Donators
David Jefferson: Founder of Parent Support Arizona;Dorene J. Philpot: Attorney at Philpot Law Office P.C,. LLC; Marcie Lipsitt-Founder and Co-chair of the Michigan Alliance for Special Education; Michael Kaczor- Master Special Education Advocate at Advocacy for Children with Dis-abilities; Theresa Sester -Founder of The Advocacy Office of (AOTS); Travis Breeding: Author; Pete & Pam Wright of Wrightslaw; Council of Parent Attorneys and Advocates (COPAA); K&D Personal Care; and Plan Bee Academy
All proceeds from the workshop will go to a new non-profit called Advocating 4 Kids, Inc, whose mission is to provide parent to parent networking and training dedicated to advocating for the rights and protection of students with disabilities.
We recognize that the most vulnerable people in our society are children with disabilities. Advocating 4 Kids, Inc will be providing local families who have children with disabilities the support, training, and resources needed for these children to experience success in our schools. This is an ambitious goal be we are confident it is one that we will achieve.