Description
BUILDING BRIDGES: A ROUNDTABLE ON EMPLOYEE-DRIVEN DIVERSITY & INCLUSION
This roundtable aims to provoke a discussion on how companies (non-profits, social enterprises, corporations) can and should address diversity and inclusion efforts in the workplace. Our roundtable will facilitate a discussion rooted in engagement tactics and leave our attendees with a greater understanding of how to talk about - and act upon- diversity efforts at work.
Panelist/Facilitators: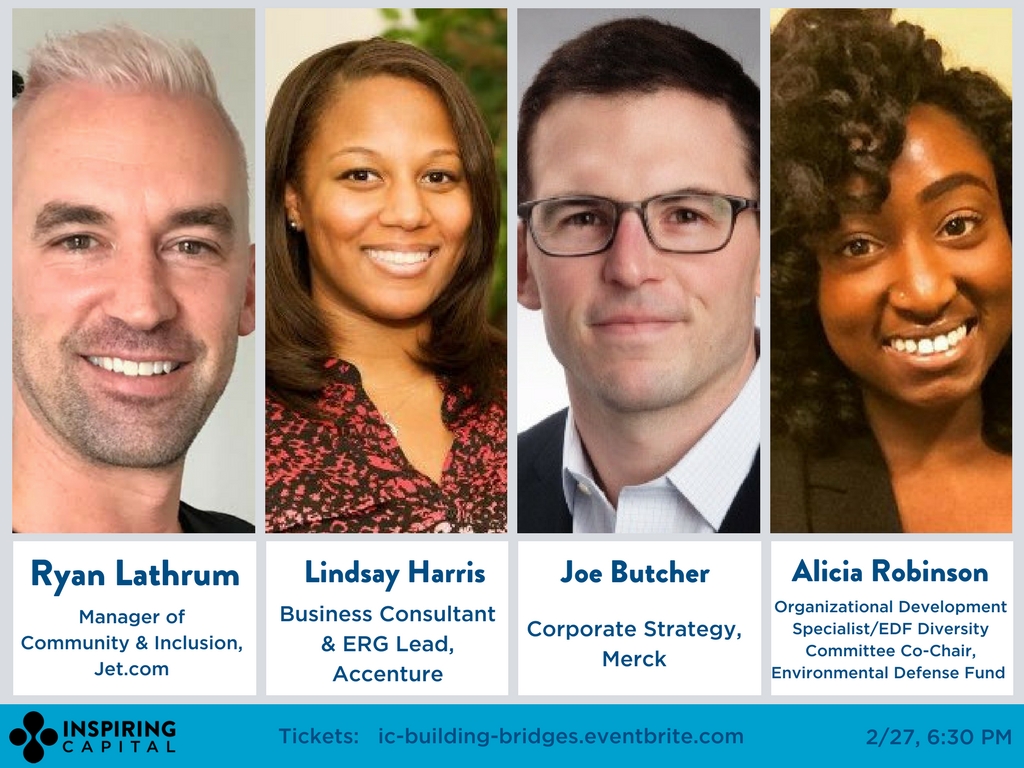 Ryan Lathrum, Manager of Community & Inclusion at Jet.com

Ryan Lathrum is the Community & Inclusion Manager at Jet.com, part of Walmart eCommerce. He focuses on building programs that make Jet an inclusive workplace and workforce. He challenges those that he works with to be culture disruptors, and he discovers ways to build unique and lasting partnerships with Jet.com. He received his Masters of Education from the University of Nevada. Personally, he loves spending time with his husband, drinking wine, and challenging himself with HIIT workouts.
Lindsay Harris, Business Consultant at Accenture (ERG Group Lead)
Lindsay Harris is a seasoned customer-facing ideologist with over seven years of consulting and project management experience. Apart from daily consulting, she is heavily involved with Accenture NY Inclusion & Diversity initiatives, serving as a member of multiple Employee Resource Groups (ERGs) and leading the LGBTQ Ally ERG in the local NY metro area offices at Accenture. In this role, she's responsible for developing educational and social networking events for Accenture employees and her clients. She's in charge of planning community service initiatives, as well as collaborating with other Accenture and external ERGs to plan events that bring awareness to LGBTQ causes.
Joe Butcher, Corporate Strategy at Merck (Veterans ERG)
Joe Butcher currently supports Merck's Corporate Strategy Office as part of a 2-year leadership development program, focusing his efforts on enterprise digital initiatives and risk and crisis management. Joe joined Merck after receiving his MBA from the Wharton School during which he was an Inspiring Capital MBA Fellow (consulted The Doe Fund). Prior to Wharton, Joe spent six years serving as a U.S. Marine Corps officer, conducting foreign military advising engagements in Iraq and the Asia-Pacific region. Joe also holds a B.S. in Quantitative Economics from the U.S. Naval Academy.
Alicia Robinson, Organizational Development Specialist/EDF Diversity Committee Co-Chair at the Environmental Defense Fund
Alicia Robinson is a Long Island native and HBCU Grad currently serving as an Organizational Development Specialist within the HR department at the Environmental Defense Fund. She started at EDF as the first Diversity, Equity and Inclusion Intern where which she worked on a number of DEI initiatives, that are still in place at EDF today, and actively participated in the EDF Diversity Committee. Today she serves as an EDF Diversity Committee co-chair working.
What is an ERG?
Employee Resource Groups (ERGs) are voluntary, employee-led groups that foster a diverse, inclusive workplace aligned with organizational mission, values, goals, business practices, and objectives. Other benefits include the development of future leaders, increased employee engagement, and expanded marketplace reach. These may be called Business Resource Groups, Affinity Groups
Agenda
6:30 - 7:00 PM - Networking

7:00 - 7:30 PM - Introduction to topic and panelists

7:30 - 8:00 PM - Breakout discussion

8:00 - 8:30 PM - Wrap up and Q&As

8:30 - 9:00 PM - Networking