Building Bridges, Breaking Barriers, & Cultivating Cultural Competency with the Diverse Deaf and Hard of Hearing Community
About this event
2021 New Jersey Statewide Network for Cultural Competence Virtual Conference
April 26th and April 27th, 2021
Building Bridges, Breaking Barriers, & Cultivating Cultural Competency with the Diverse Deaf and Hard of Hearing Community
*The conference program and additional recordings on various informational resources will be available in the Guidebook app. An email will be provided prior to the start of the virtual conference.* 'Recorded sessions on Language Acquisition and the NJ Deaf Students Bill of Rights will be available on the Guidebook app'
DAY 1 : Monday, April 26
12:00-12:15 pm Live Intro - Robert C. Like, MD, MS Chair, NJSNCC (10-15 minutes) - Introduction
Keynote: 12:15-1:00 Elizabeth Hill, BA/MSW, Executive Director, NJ Human Services Division of Deaf & Hard of Hearing
1pm-1:30pm: Break
1:30-3:00 pm Live Panel I – Professional Stories and Perspectives - Moderated by Nancy Schneider (DOH Audiologist)
Day 1 Panelists: Robert Robinson, Tanya Onsongo, Wendy Eufemia, Ariel Meltzer, MaryBeth Kilkenny
3:00pm - 3:30pm: Break
3:30 pm 4:45 pm D/HH Adult to Family Support Programs in Jersey - Pam Aasen, Alyssa Buchholz, Carrie Pogue and Deaf Mentors ( Discussion of SPAN DM Project and Q&A
DAY 2: Tuesday, April 27
Keynote:12:15-1:00: Noah Buchholz, PhD student, Religion &Society, Princeton Theological Seminary1:00pm-1:30pm - Break
1:30-3:00 pm Live Panel 2 – Consumer/Advocacy Stories and Perspectives - Moderated by Diana Autin
Day 2 Panelists: Latisha Porter-Vaughn, Thyson Halley, Carlito Morrobel, Monu Chhetir, Kathy Kady-Hopkins', Tara Invidiato
3:00pm - 3:30pm Break
3:30 pm Live 4:00 pm - NJ CAP Relay Conference Captioning
4:00 - 4:15pm Closing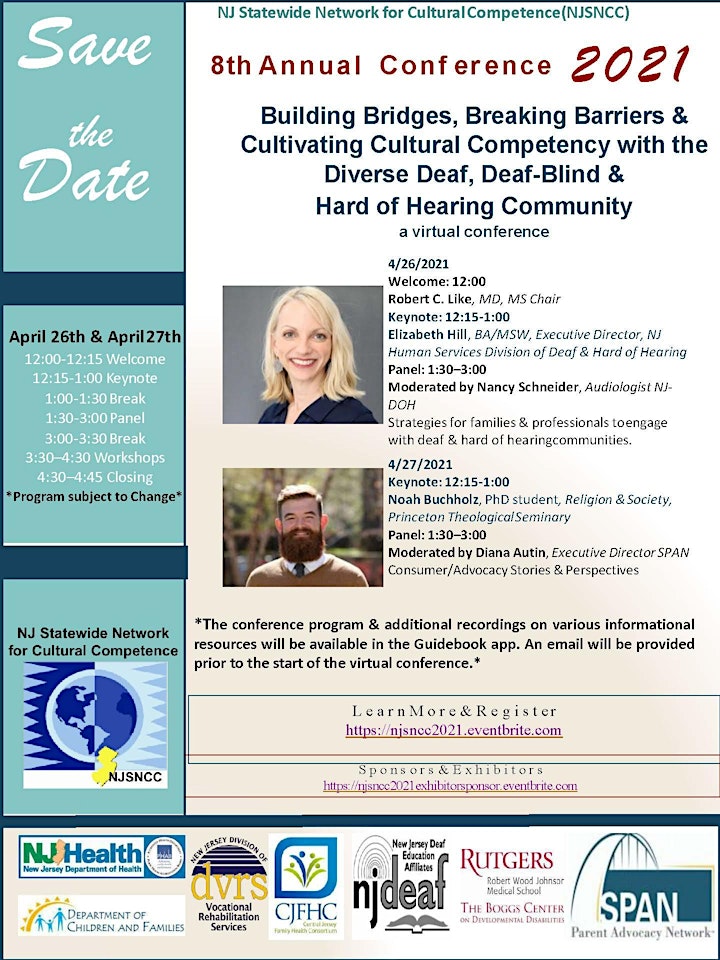 Organizer of Building Bridges, Breaking Barriers
The New Jersey Statewide Network for Cultural Competence began in 2002 as an initiative of the New Jersey Department of Health to improve culturally competent policies, procedures and practices through participation in a technical assistance project developed by the National Center for Cultural Competence at Georgetown University. Upon completion of the project, participants decided to work together to develop a broad-based network to advance culturally competent practices in New Jersey. Early milestones included the development of a listserv and resource directory in 2003, the launch of a website in 2005, and five statewide conferences in 2010, 2012 and the following three consecutive years .
The agencies and organizations involved in the Network include more than 130 public/non-profit State, community and private sector agencies engaged in or promoting culturally & linguistically competent service delivery, education, policies and practices.
Our Mission: To facilitate access to equitable and quality services for individuals, families, and communities through culturally and linguistically appropriate service delivery.