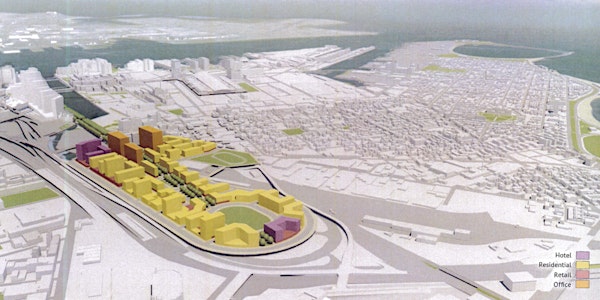 Building Boston 2030 - Widett Circle: Boston's Next Frontier for Innovation and Growth
When and where
Location
C. Walsh Theatre - Suffolk University 55 Temple Street Boston, MA 02114
Description
The Center for Real Estate and the Greater Boston Real Estate Board presents: Building Boston 2030
Widett Circle: Boston's Next Frontier for Innovation and Growth

Widett Circle-off the southeast expressway-is on the brink of major redevelopment. The area once slated to become a temporary stadium for the Boston Olympics could become Boston's next frontier for growth. But now, with Mayor Martin J. Walsh's support, developers are determined to transform it into a new section of the city that offers workforce housing and economic opportunities for new and existing industries.

What does that mean for Widett Circle? Will it become the next Kendall Square-a hotbed for technological innovation? A new place for people to live and work like Fenway? Or maybe an upscale shopping and entertainment center like Assembly Row in Somerville?

As planned Widett Circle was to be transformed into the following real estate program: Hotels (720,000 sq.ft.), Residential (3,975,000 sq. ft.), Retail (870,000 sq. ft.), Office (1,550,000 sq. ft.). This was scheduled for a five phase build out.

How many existing businesses are impacted and have to move? Where would they go? Should they be moved to the Marine Industrial Park controlled by Massport.

Panelists:
Richard A. Dimino, President & CEO, A Better City
M. David Lee, President and Managing Partner, Stull and Lee
Thomas O'Brien, Founding Partner and Managing Director, The HYM Investment Group, LLC
Michael P. Ross, Of Counsel, Prince Lobel
Susan Sullivan, Executive Director, Newmarket Business Association & Newmarket Community Partners, Inc.


Moderated by:
Peter Howe, Business Editor, NECN

This event is free and open to the public, registration is required.

Learn about our professional development programs at www.suffolk.edu/realestate

There is no onsite parking. Local area parking information.


Sponsored by:
Suffolk University Center for Real Estate

&