Building Boarding School Networks | RIISE Martha's Vineyard 2019 - #RIISEMV...
Description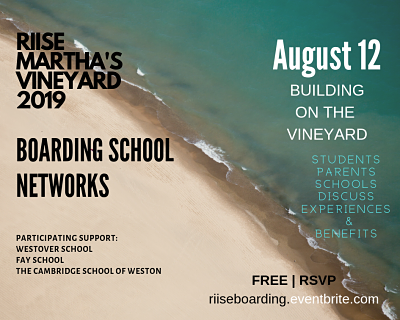 Welcome Families & those passionate about educating students of color,
Monday 8.12, 11a-2p, Boarding School Networks On The Vineyard @Edgartown Library
Register: https://riiseboarding.eventbrite.com - FREE
New England is home to more than seventy boarding schools. How many do you pass on your way to the Vineyard?
If you're thinking deeply about 'a good education' for your child, then you need to look no further than the 6th annual RIISE Martha's Vineyard Events in August. Particularly, if you have or know a student of color.
On August 12, we'll be Building Boarding School Networks On The Vineyard!
Join a very particular discussion with students, parents, and decision-makers from
Westover School, The Fay School, & The Cambridge School of Weston.
Questions we'll ask and explore:
What are the benefits of a boarding school education?
What makes a boarding school education so unique? And, how do students of color thrive there?
How does this particular private school experience prepare our kids for college success and beyond?

RSVP now for this free event at riiseboarding.eventbrite.com
**Accommodations: 10% discount at Winnetu Oceanside Resort when you mention RIISE MV Events.
******
Hang out with us again on 8.13, at The Winnetu for a critical conversation with thought-leaders about 'A Good Education' -What it looks like today, the costs, and how to win! - https://riisebrunchbeach.eventbrite.com