Building Blocks for Impactful Community Engagement toward Health Equity
Description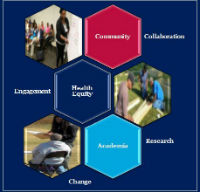 On January 11, 2019, the University of South Alabama Center for Healthy Communities is hosting its 3rd Forum on Community-Engaged Scholarship entitled Building Blocks for Impactful Community Engagement toward Health Equity.
The forum has a two-fold object: 1) Focus on key elements of community engagement that foster progression to health equity; and 2) encourage interconnections between researchers and Community Based Organizations working toward health equity in our community.
Keynote Speakers:

Tabia Henry Akintobi, Ph.D., MPH is Associate Professor of Community Health and Preventive Medicine, Associate Dean of Community Engagement, and Principal Investigator and Director of the Prevention Research Center at Morehouse School of Medicine. She has extensive experience in community-based participatory research, community-engaged public health practice, and experiential learning among trainees across the health professional career development pipeline. She received her Bachelor's degree from the University of Miami and earned both a Master's of Public Health and Doctorate of Philosophy in Public Health from the University of South Florida's College

Dr. Dale Ainsworth has worked and practiced in a variety of industries, communities, and non-profit settings in leadership and consultant roles focused on enhancing the quality of life and organizational effectiveness through the application of community and organization development practices. He is an accomplished large and small group facilitator with experience in a variety of cultural settings. Before his roles as an educator and consultant, Dale served in several senior leadership roles, leading organizations through large-scale change efforts. Dale holds a Master of Science degree from Pepperdine University in Organization Development, and a Ph.D. degree from Saybrook University in Organizational Systems where his research focused on developing groups and teams to lead transitions in organizational and community settings. Dale continues to research and lead efforts to develop capacity in collaborative structures, where multiple organizations chose to work together to accomplish a common, large-scale goal. Dale is a faculty member at California State University, Sacramento in the Health Science department.
Download the call for posters.