Building an MTSS/RtII Framework for K-6 Mathematics Team Series
Sales Have Ended
Registrations are closed
Registration has ended.
Sales Have Ended
Registrations are closed
Registration has ended.
Description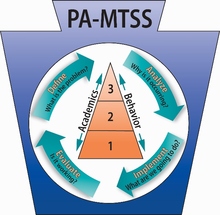 Building an MTSS/RtII Framework for Elementary Mathematics Team Series, 2017-2018 Cohort
Response to instruction and intervention (RtII) in Pennsylvania refers to the use of a standards-aligned, multi-tiered system of support to improve learning as efficiently, effectively and equitably as possible for ALL students, including students with disabilities. RtII is defined through the use of a continuum of student performance data to continuously inform, monitor and improve student access and response to high-quality core and supplemental instruction/intervention. The goal of this training series is to support school-based teams through the design, implementation and sustainability of an RtII framework in mathematics which includes intensifying instruction across all tiers.
Minimum Team Requirements: Organize a building level team, which may include some or all, of the following team members:
o Building Principal (required)
o General Education Teacher(s)
o Special Education Teacher(s)
o School Psychologist or Counselor
o Math Specialist, if available
Teams will be given time to collaborate and develop action steps to further refine MTSS/RtII efforts.
Team size is limited to 6 members.
5 Session dates: 10/11/17, 11/14/17, 12/13/17, 3/15/18, 5/8/18
All sessions are FREE
Times: 9:00 am – 3:30 pm
*** ALL TEAM MEMBERS ARE EXPECTED TO ATTEND ALL SESSIONS ***
Registration is limited to 36 participants. Registration deadline is September 28, 2017.
REGISTRATION INSTRUCTIONS: In team name field, type your school name to see if a team has been created, and select it. If not yet created, then create a team name using your school name. If registering multiple participants at once, you may use the drop down box to select number of people to register (Remember teams are limited to 6 participants). Then click "CHECKOUT" to complete registration information.
Sessions will be held at:
Allegheny Intermediate Unit
475 E Waterfront Drive, Homestead, PA 15120
Act 48 hours available - 25 Hours
Content Questions, Contact: Andrea Miller andrea.miller@aiu3.net / 412-394-5988
Registration Questions, Contact: Traci Seibert traci.seibert@aiu3.net / 412-394-5797