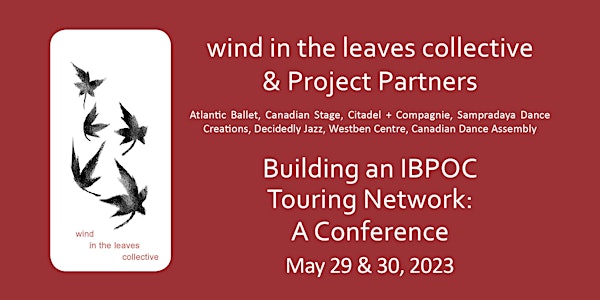 Building an IBPOC Touring Network: A Conference
Why you should register: To connect, network and learn how you can benefit from the Network.
By wind in the leaves collective
Location
Citadel + Compagnie 304 Parliament Street Toronto, ON M5A 3A4 Canada
Refund Policy
Contact the organizer to request a refund.
Eventbrite's fee is nonrefundable.
About this event
wind in the leaves collective & Project Partners:
Building an IBPOC Touring Network: A Conference
Project Partners: The organizations partnering with the witlc are: Canadian Stage (Toronto/Ontario), Decidedly Jazz (Calgary/Alberta), Westben Centre for Connection & Creativity through Music (Campbellford/Ontario), Atlantic Ballet (Moncton/New Brunswick), Sampradaya Dance Creations (Mississauga/Ontario), the Citadel + Compagnie (Toronto/Ontario) as well as the Canadian Dance Assembly. Each organization is very interested in supporting IBPOC and allied artists and understands the importance of presenting this work to their current audience and, as well, to build their audiences.
Why is an IBPOC artist touring network important right now?
Touring helps performing artists build audiences, get exposure, and make connections with presenters and producers. But not many IBPOC artists / companies / works are touring across the country on a consistent basis.
The big idea: The Wind in the Leaves Collective is partnering with artist-presenters across Canada who are keenly interested in supporting IBPOC and allied multi-disciplinary performing artists and have experience in presenting and/or producing works by and/or for IBPOC performing artists. Their goal is to build a Touring Network across Canada which would enable the participating presenters to collaborate on staging, promoting and sharing resources.
For the touring artists, this would mean strong support and a clearly defined touring route.
Why you should register: To connect, network and learn how you can benefit from the Network.
- Keynotes by experienced IBPOC artist-presenters
- Feasibility Study Report (vison, goals, measures of success, overcoming challenges, expanding audiences, revenue generation ideas)
- Panels on
Being touring-ready
Resources and Generating Revenue to Support Touring
Presenters/Producers/Arts Services Organizations
- Artist showcase: Video presentation of touring-ready works by multidisciplinary IBPOC artist or allies working with IBPOC artists
Note: The conference pass includes registration for both days. Attendees are invited to attend both days. The fee includes morning refreshments, lunch as well as an evening reception. If you have any dietary restrictions or allergies, please use the "Contact the Organizer" button below and tell us.
This conference is supported by the Canada Council, Toronto Arts Council and Department of Canadian Heritage.
About the organizer
wind in the leaves collective engages in seamless choreographic creation of movement with poetic syncretism to develop and perform collaborative work involving diverse artistic disciplines; the outcome is always unique view into a dialogue amongst artists on contemporary issues. With artists from diverse disciplines and reflective of Canadian society, the collective presents interdisciplinary performances using music, poetry, dance and various forms of visual art, e.g., photography, collage, moving images providing several paths of intersection with the presentation of its artistic content. The collective aims to connect with many individuals and communities in a multicultural, multiracial society and a global community.