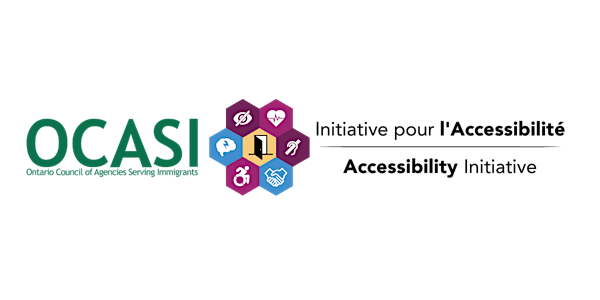 Building Accessible Services for Immigrants and Refugees with Disabilities
Roundtable to commemorate International Day of Persons with Disabilities by OCASI's Accessibility Initiative and its Allies in Accessibility
About this event
To commemorate the International Day of Persons with Disabilities, OCASI's Accessibility Initiative (AI) and its Allies in Accessibility Program invite you to the roundtable: Building Accessible Services For Immigrants And Refugees With Disabilities December 6, 2022 1.00 PM to 3.00 PM EST via zoom.
AI will launch its National Accessibility Toolkit in English and In French. This resource is created to address the learning needs of the sector on the challenges immigrants and refugees with disabilities and d/Deaf newcomers are facing in their settlement journey as well as the federal legislation and best practices related to inclusive and equitable services provision.
The launch of the toolkit will be followed by a panel discussion composed of people with life experience, experts in the provision of services to immigrants and refugees with disabilities and accessibility allies. Panelists will address various forms of exclusion and inequalities in accessing services. While pinpointing some of the effective ways of creating an inclusive culture that integrates im/migrants and refugees with disabilities.
Click here to complete the Accessibility form
For questions about this event, contact access@ocasi.org