About this event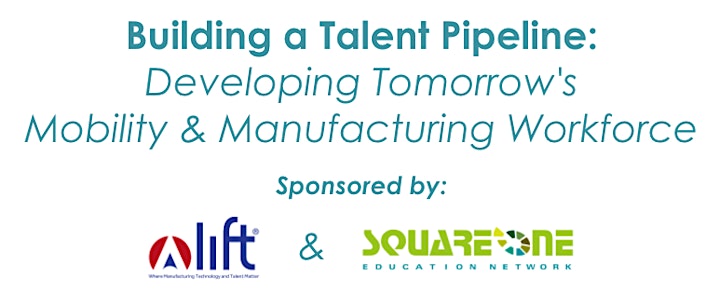 Join us for a dynamic hour of insight as we hear from Change Makers and recognize successful collaborative partnerships with a diverse group of industry leaders, program developers, educators, students and community members that are passionate about Michigan's STEM workforce development. LIFT's Joe Steele, Director of Communications and Legislative Affairs will guide us through the morning.
Keynote Speaker Reuben Sarkar, CEO of the American Center for Mobility will present: "Skills Gaps in the Mobility Industry"
Together we'll learn more about narrowing the skills gap and solving your workforce needs through collaborative practice with the Square One Education Network.
Wednesday October 28, 2020 from 10 am to 11 am
Visit www.squareonenetwork.org to learn more about all the great Square One Programs.
Organizer of Building a Talent Pipeline:
For over 25 years, the Square One Education Network, a 501c3 non-profit organization, has been providing high quality STEM learning opportunities to teachers and students across Michigan, and beyond.  Our work is primarily focused on:
Organizing and hosting a "Signature Series" of Innovative Vehicle Design (IVD) Challenges, with competitions, for students in grades 6-12, from all demographics

Providing teacher professional development to build teacher capacity for supporting students in these design challenges and

Providing opportunities for teachers and students to interface with Industry professionals, expanding STEM career awareness. 
Square One programs are specifically designed to provide highly engaging, authentic, relevant, project-based learning opportunities (our IVD Challenges) that supplement existing curricula, and help teachers address the NGSS Engineering Practices.

Visit https://vimeo.com/341939051 for a short two minute video that provides a good overview of the IVD Challenge Competitions.