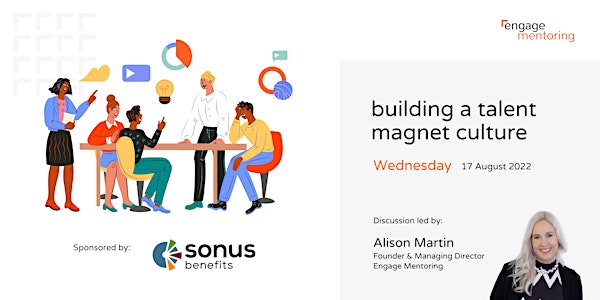 Building a Talent Magnet Culture
BUILDING A TALENT CULTURE:
About this event
In today's market, it is more critical than ever for companies to address the key drivers for employee engagement and attracting top talent. In this session, we'll uncover what makes companies a magnet for talent. In addition, we will explore approaches your organization can take now to ensure access to relationships, build culture, and to ultimately attract and retain the best talent.
Discussion Led By:
Alison Martin, Founder & Managing Director of Engage Mentoring
Engage Mentoring, a company whose mission is to help organizations grow inclusive cultures of diverse talent by leveraging technology that provides access to meaningful relationships.
With the impressive background work and roughly 20 years in nonprofit, with four years working in higher education and on to Executive Director at two different health-related nonprofit organizations, Alison's passion for developing talent led her to start a consulting firm in 2011. Her work consulting with large associations, nonprofits, and companies to construct mentoring programs led to the development of Engage Mentoring in 2019. Engage Mentoring provides a leadership program for companies and individuals to access mentoring on topics of their choosing, while impacting the next generation of talent by providing a mentoring program to college students through partnerships with nonprofits and universities.