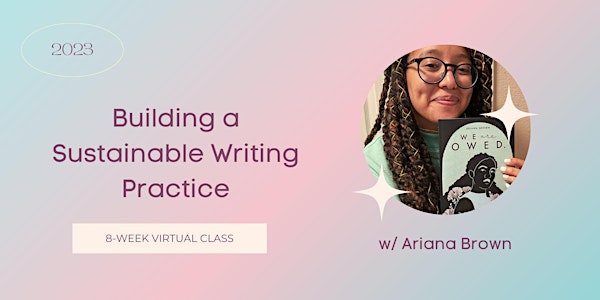 Building a Sustainable Writing Practice: taught by Ariana Brown
8-week virtual class taught by author Ariana Brown on building a sustainable writing practice. Open to writers of all genres ages 18+.
Date and time
June 1 · 5pm - July 20 · 7pm PDT
Refund Policy
Contact the organizer to request a refund.
Eventbrite's fee is nonrefundable.
About this event
Thursdays 7:00pm - 9:00pm CST
June 1 - July 20
8 meetings total
Building a Sustainable Writing Practice is a supportive 8-week virtual class designed to help you create a writing practice tailored to your individual needs. If you've struggled to maintain a consistent writing schedule even though you really want to, this class is for you. Whether your biggest obstacles to writing are time, illness, self-doubt, writer's block, or just a general sense of being overwhelmed, Ariana Brown will provide guidance to address them. Building on disability justice and anti-capitalist principles from the books How to Keep House While Drowning and The F*ck It Diet, Ariana's teaching incorporates gentle approaches to things like scheduling and meeting goals. Because writing should be something you enjoy, not something you stress about!
Together, we will identify the obstacles to our writing and try new techniques to address them. Class discussion will reveal what did and didn't work. Lectures will introduce mindset shifts, key concepts, and writing prompts to constantly change the way we think about "producing" work. The final class consists of an open mic so students can share work in an encouraging space. Students will leave this class with a personalized plan for how to maintain their writing practice outside of this class.
*Class sessions WILL be recorded.
*Automatic captioning enabled via Zoom.
*Open to writers of all genres ages 18+.
READ THE ACCESS STATEMENT HERE.
Course Expectations:
Each week, students will learn and incorporate new strategies for strengthening their writing practice. Classes consist of lectures, discussions, prompts, strategies, and exploration of writing tools. The final session is dedicated to a class open mic. There is minimal homework, mostly focused on incorporating strategies into students' writing practices.
Course Schedule:
June 1: Identifying Obstacles
June 8: Setting Strategies
June 15: Building a Writing Schedule
June 22: Fueling Your Creativity
June 29: Research Tools
July 6: Keeping the Writing Fresh
July 13: Writing in Community
July 20: Class Open Mic & Resource Review
About the Instructor:
Ariana Brown (she/they) is a queer Black Mexican American poet from San Antonio, TX. She holds a B.A. in African Diaspora Studies and Mexican American Studies, an M.F.A. in Poetry, and an M.S. in Library and Information Science. Ariana is a 2014 national collegiate poetry slam champion. She is the author of We Are Owed. (Grieveland, 2021) and Sana Sana (Game Over Books, 2020). She has been writing, performing, and teaching poetry for 13 years.
As a teacher, Ariana believes there is no wrong way to write a poem. She encourages discovery by asking participants to identify what excites them or what they notice most about poems. Ariana is skilled in teaching writers of all levels, creating opportunities for everyone's thoughts and experiences to live harmoniously in the classroom. She teaches from a queer Black feminist approach, meaning she invites participants to safely engage in vulnerability and mutual support, as she works to craft a comfortable and challenging learning environment for all.
Testimonials:
"I loved the focus on POC and queer poets. I've taken other poetry courses before that were great, but did not explicitly touch on many of the topics around identity and lived experiences that did come up in this course. Ariana's teaching was also lovely, thoughtful, deep, and overall such a great learning experience." --former student
"The course affirmed that my writing and my demons are valid, and that the stories that are most important to me are worthy of being written. It rejuvenated my belief in myself as a writer, my sense of urgency about producing new work, and opened horizons for future writing projects. So grateful for the space and guidance of an awesome facilitator!" --former student
"My favorite part of the course was getting introduced to new poets both in our readings and in class. Prior to the pandemic, I yearned for poetry community as well as opportunities for affirmation as a writer. I was reminded of those desires in this class. I especially loved watching the performances of some of our readings- I don't have experience reading my work aloud and so I loved getting to know different ways a poem can take form via performance." --former student
Blurbs:
The virtue that I have long admired in the poems of Ariana Brown is the warmth that is directed upon the audience. And these poems know and identify their audience with gentleness and gratitude, even—or especially—when the audience is the self. Even death links its fingers with praise, even dislocation is met with a crawl back to some familiar affection. I am thankful to once again be witness to these poems that welcome and make space for the people who most need it. And for how Ariana Brown sets a lens on the world that is critical, but always caring.
--Hanif Abdurraqib, author of A Little Devil in America
Brown's collection, Sana Sana, is simultaneously revelatory and familiar; like its title, the poems within aim their gaze towards healing but not healing in a conciliatory way; here Brown looks to heal by swishing a finger through the wound and holding the blood up to the light. Which is to say, Brown's writing is for the ache, for the scab, for the scar, and the ghost pain, "It takes love to name the damage / on one's own body." And this is a collection about naming, about forgiving, about the music of memory and the invention of self and history in order to survive.
--Elizabeth Acevedo, National Book Award Winner
Frequently asked questions
What is the deadline to sign up?
Will the class sessions be recorded?
Is this open to writers of all genres, including academic writing?
I can't afford this class. What options do I have?
Will there be time to write during class?
Is this class virtual or in-person?