Building a Prepared Community through Resident Leadership
When and where
Location
Association for Neighborhood and Housing Development 50 Broad Street 14th Floor New York , New York 10004
Description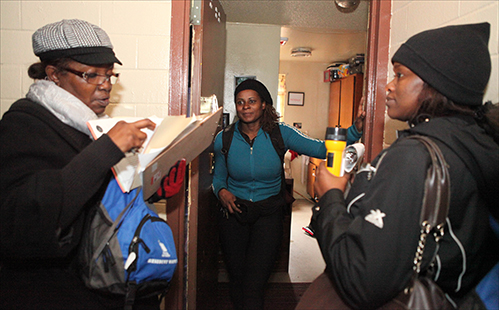 Resident Voices from the Field
Building a Prepared Community in partnership with Resident Leadership
When: Tuesday, September 30th, 2014th
Time: 9:45 a.m. - 11:30 a.m.
Where: NEW LOCATION: Association for Neighborhood and Housing Development, 50 Borad Street, Suite 1402, New York, NY 10004
Register to attend in person
Register to attend via WebEx
A collaboration with the Association for Neighborhood and Housing Development (ANHD), this panel of resident and community leaders will discuss strategies to support and cultivate resident leadership for a successful disaster response and recovery.
About Our Panel:
Reverend Terry Troia, Executive Director, Project Hospitality
In Staten Island, Hurricane Sandy impacted 75,651 residents, caused 23 deaths, and flooded 17% of the borough. Following this devastation, Reverend Troia has been a champion of relief and recovery efforts, spearheading efforts to shelter, feed, and support a range of critical needs for Staten Island's most vulnerable residents. She currently serves as President of The Staten Island Community and Interfaith Long Term Recovery Organization and is Executive Director of one of Staten Island's oldest social service organizations, Project Hospitality. Founded in 1982 as a food pantry and soup kitchen for the homeless, Project Hospitality has expanded into a comprehensive network of social services available to all Staten Island residents in need, from emergency food and shelter to medical care, job training, housing assistance, and much more.
Nancy Ortiz, Resident Tenant Association President, Vladeck Houses
The Vladeck Houses, located on Manhattan's Lower East Side, include 24 six-story buildings with 1,760 apartments, all of which were left without heat and power following Superstorm Sandy. As the Resident Association president, Ortiz worked with local organizations and elected officials to assemble nearly 3,000 "Go Bags" for the entire Vladeck Houses community to ensure resident preparedness for future disasters. The Association continues to support emergency preparedness by hosting monthly meetings on a range of preparedness topics.
More resident leaders to be announced!
For additional information, contact Ilana Novick or by phone 212.284.7214.