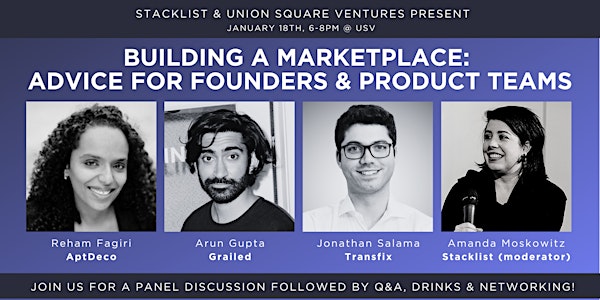 Building a Marketplace: Advice for Founders & Product Teams
Founders share their experiences building a two-sided marketplaces in a 1-hour discussion panel followed by Q&A, drinks & networking.
When and where
Location
Union Square Ventures 817 Broadway New York, NY 10003
About this event
TL:DR
On January 18th, 6-8PM, join us at Union Square Ventures for a panel discussion for early-stage entrepreneurs: "Building a Marketplace: Advice for Founders & Product Teams." We'll have cocktails & networking after the panel! 🍷🍺
Speakers.
Reham Fagiri is the Co-Founder & CEO of AptDeco, an online marketplace for buying and selling quality preowned furniture with pick up and delivery built into the service. AptDeco has 19,000 active furniture listings.
Arun Gupta is the Founder & CEO of Grailed, the largest peer-to-peer marketplace for luxury, vintage clothing, streetwear and sneakers. Grailed has more than 5 million active listings from sellers.
Jonathan Salama is the Co-Founder & CTO of Transfix. Transfix has built a marketplace platform where carriers (truck companies) and shippers get access to AI-driven freight matching. Shippers access real-time capacity for their loads and carriers fill their trucks.
What We'll Discuss.
A successful marketplace startup can have outsized returns for founders and investors, disrupt industries and create massive efficiencies for buyers and sellers. We've seen the marketplace model succeed wildly in ride-sharing, second-hand clothing and furniture, healthcare, household repair gigs and child and elderly care, just to name a few.
And, wow, is it hard to do. Building a marketplace means bringing two sides together -all the while ensuring, even from day 1, that there are buyers for the products and services being sold and that there are products and service available to the people who want to buy.
Strategic options for starting out: working on both sides of the market at once? or focusing on one side first?
Identifying software, platforms and other tools that help in beta and launch
Leveraging network effects where possible
Keeping your users engaged
Understanding marketplace-specific finance concepts like escrow
Questions?
Email us at marketing@stacklist.com! See you soon!!