Description
Building a High Performance Finance Team
Presented by
The Chicago CFO Leadership Council
Thursday, February 16, 2017 @ 7:30 a.m.

7:30 a.m. - 8:00 a.m. - Breakfast and Networking
8:00 a.m. - 9:30 a.m. - Program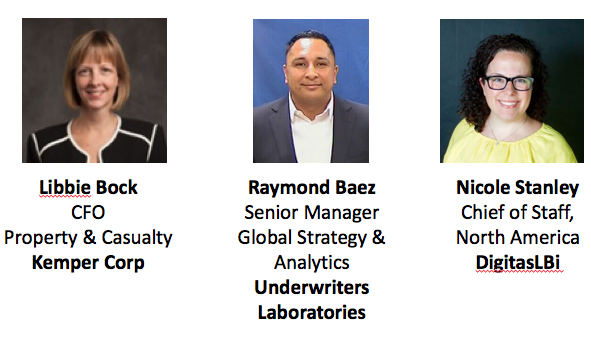 Today's CFOs face an environment of increased competition, heightened speed of change and increased expectations from key stakeholders to drive improved performance. At the same time, CFOs are being asked to do more with less. To succeed today, CFOs need to create an agile, service-oriented, value-creation organization.
The CFOs who will succeed in this environment will be those who grasp the evolving finance skills they will need to drive value for the overall organization while understanding how they will optimize the finance resources they have.
Engage with a panel of CFOs and other advisors who will share their perspectives and strategies CFOs can apply to build high performance finance teams. Key discussion topics will include:
How do CFOs create an effective business partnering culture between their finance team and other functions that finance supports?

What critical competencies are required to create a finance team that can support the new demands of finance?

What changes to finance's organizational structure should be considered?

What strategies can one apply to shape and evolve their existing team while 'keeping the lights on"?

How can CFOs leverage technology to create finance efficiencies and redeploy their team to higher value-added roles?
Speakers (Full Bios Provided Below)
Libbie Bock, Kemper -

Libbie serves as the Chief Financial Officer for Kemper's $1.5B Property & Casualty Group

Raymond Baez, Underwriters Laboratories -

As Senior Manager of Global Strategy & Analytics, Raymond supports multiple streams within Global Finance at UL with a focus on Predictive Analytics.

Nicole Stanley, DigitasLBi - Nicole is the Chief of Staff at North America DigitasLBi.

CPE Information:
Program level: Advanced
CPEs: 1.5 Credits
Field of Study: Personnel/HR
Program Prerequisites: None
Advanced Preparation: None
Delivery Method: Live/Group
The CFO Leadership Council is registered with the National Association of State Boards-of-Accountancy (NASBA) as a sponsor of continuing professional education on the National Registry of CPE Sponsors. State boards of accountancy have final authority on the acceptance of individual courses for CPE credit. Complaints regarding registered sponsors may be addressed to the National Registry of CPE Sponsors, 150 Fourth Avenue North, Suite 700, Nashville, TN, 37219-2417. Website: www.nasba.org
Learning Objectives:
After this program, attendees should be able to:
Recruit, retain, motivate and develop a diverse and talented group of employees

Build a work environment that will maximize the performances of a multi-generational workforce, including Baby Boomers, Generations X and Y, and Millennials

Offer frequent opportunities to get the team exposure "above their head" to accelerate growth

Make "tough call" decisions - reshaping the team, when necessary

Retain your strongest, most valuable employees

Maximize the contributions of employees and dedicate consultants in far flung operations around the globe

Ensure employees who do not work in headquarters buy into your company's goals, missions, values and corporate culture
Registration
To register for this program, simply click on the tickets button above. All CFO Leadership Council members can attend this event for free. Non-member senior financial executives who are CFOs, Vice Presidents of Finance, Directors of Finance and Controllers (or the like) are welcome to attend this program for $50.
Please note that service providers or any executives who are not senior financial executives (CFOs, Vice Presidents of Finance, Controllers, Directors of Finance, etc.) will not be admitted attendance to this event. The CFO Leadership Council reserves the right to decline any registration.
More Information & Refunds:
For more information about this program or The CFO Leadership Council, please contact Emily Smith, Chicago Marketing Director, at emily@cfolc.com.
If you would like to cancel your ticket or request a refund, please contact Emily Smith, Chicago Marketing Director, at emily@cfolc.com. Refunds are available up to 24 hours prior to the program.
About Our Speakers:
Libbie serves as the Chief Financial Officer for Kemper's $1.5B Property & Casualty Group, where she leads the finance team and data science function. Her diverse and global experience includes roles in strategy, marketing, analytics, communications, IT and finance. She has worked in numerous industries, including financial services, manufacturing, government, and professional services.
Libbie holds her MBA from Stanford University and earned her undergraduate at George Washington University.
As Senior Manager of Global Strategy & Analytics, Raymond supports multiple streams within Global Finance at UL with a focus on Predictive Analytics. He currently leads a Team of Data Scientists and Forensic Accountants on developing Analytical, Statistical and Deep Learning models to reduce cost, mitigate risk and streamline processes to improve the health of financials by recapturing lost revenue.
Prior to his recruitment at UL, he managed and curated Analytical techniques to improve the pricing algorithm and predictive strategies in the Energy and Supply Chain sectors. As a Project Manager, he led enterprise wide Finance Shared Service software selection and implementations including ERP, workflow and cloud based solutions. Raymond received his B.S. in Finance from DePaul University, his M.S. in Computational Finance from DePaul University and M.B.A. in Management Accounting from Northern Illinois University. With his diverse education in Accounting, Finance and Computer Science, Raymond brings a holistic approach to Finance collaborations.
Nicole supports and provides strategic advice to the President (as well as ELT and CEO) in all relevant matters of capability development, alignment, strategy, and implementation, suggesting problem-resolution, approaches and procedures. She provides oversight, partnership and guidance with misc. projects critical to the capabilities and, where relevant, the organization-at-large. Nicole understands the company's sensitivities, customers, and team members who make it all work and navigates through those waters to drive priorities to completion. She oversees org design strategy and alignment and changes related to both as well as leads the hub of change management (alignment, communication, implementation follow-through with support from multiple functions – finance, HRIS, PM, etc). Nicole also concentrates on troubleshooting and paying attention to the daily needs of the company, making room for the President and Capability leads (and other as applicable – CEO, ELT, etc) to spend more time strategizing and focusing on the growth of the company. She partners with and supports other functions concerned with employee satisfaction, recruiting efficiency and training.