Building a Healthier Community through Active Transportation
Description

Workshop Agenda
8:00 – 8:30 – Registration, Networking and Continental Breakfast
8:30 – 8:45 AM - Welcome
8:45- 9:45 –

Pedestrian Panel
California Walks will moderate a panel of experts who will guide you to how pedestrian master plans, the walk friendly designation, and up to date pedestrian data can help you meet the Santa Clara County Health Cities Campaign criteria. Recent data and statistics from the 2017 report "Walking for Healthier Santa Clara County" will be highlighted.
9:45 - 10:45 AM - Safe Routes to School
Safe Routes to School National Partnership will debut the recently completed resource, "Building Momentum for Safe Routes to School: A Toolkit for School Districts and City Leaders." Be one of the first to receive a copy of this resource about SRTS sustainability.
10:45 AM - 11:00 AM - Break/Networking
11:00 AM - 11:50 PM - Transportation Demand Management (TDM) Panel
Local community partners will share the challenges of developing a measurable TDM program from both a local agency and employer perspective. Learn what local employer, Intuit, is doing to become a 2017 Best Workplace for Commuters.
11:50 AM - 12:00 PM Closing and Thank You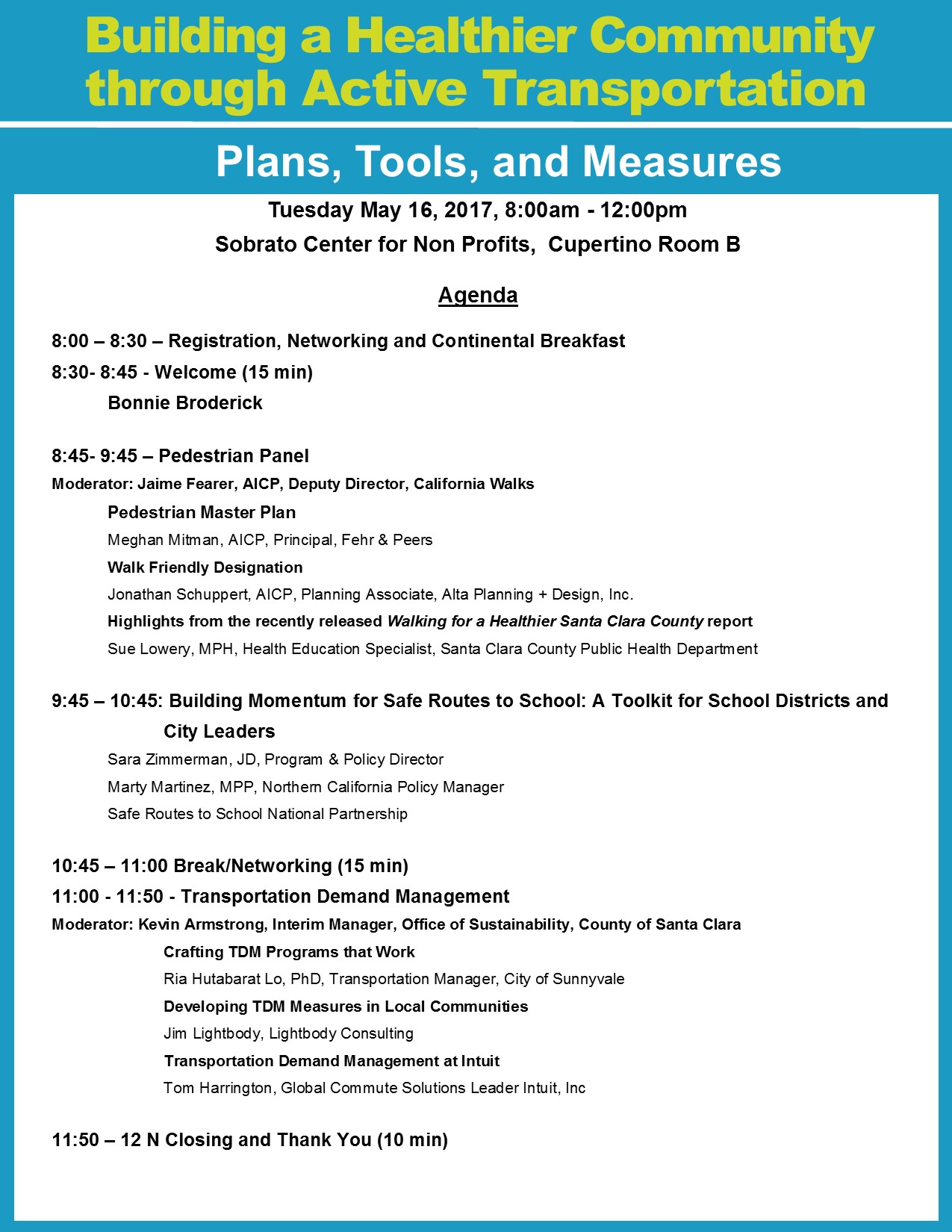 ---
Directions to Sobrato Center for Nonprofits - San José, 1400 Parkmoor Avenue, San José, CA
Transit Directions
The VTA Race Street Station on the Winchester-Mountain View light rail line ( one stop away from Diridon Caltrain Station) is just across the street. For more information regarding public transportation, visit www.vta.org or www.511.org
Bike Racks
Bike racks are available in front of the building, entering from Parkmoor Avenue.
Parking
Parking is available in the front of the building, entering from Parkmoor Avenue, and in the rear of the building, entering from Race Street.
Driving Driving Directions
From Highway 101 N or 680 N
Travel southbound and transfer to 280 N
Take the Race Street/Southwest Expressway exit toward Meridian Avenue/Race Street.
Turn right on Race Street and then make an immediate left on Parkmoor Avenue.
From Highway 280 N
Travel southbound on 280
Take the Meridian Avenue exit north.
Turn right on Parkmoor Avenue