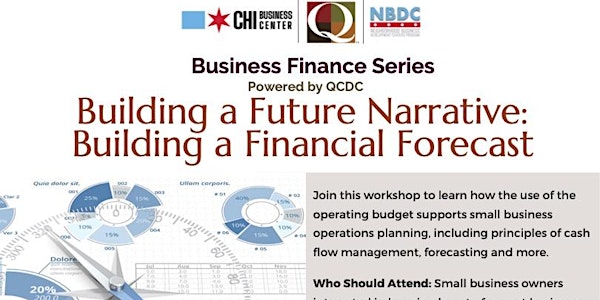 Building a Future Narrative: Building a Financial Forecast
Attend this workshop to learn how the use of the operating budget supports small business operations planning, and more.
About this event
In Workshop #4 of this 5-part series, you will learn how the use of the operating budget supports business operations planning, including principles of cash flow management, forecasting and more.
Facilitator/Instructor: Quad Communities Development Corporation & Adam Callery, Ed.D., Sagesse Lumiere
**QCDC serves business owners and entrepreneurs in the Chicago area. Please provide your full business name, business address (show "Online" if applicable), website, and all social media handles i.e. Facebook, Instagram, Twitter. Registrations that cannot be verified are subject to cancellation.
By registering for this event, I hereby grant permission to QCDC to use photographs and/or video of me taken in publications, news releases, online, and in other communications related to the mission of QCDC.