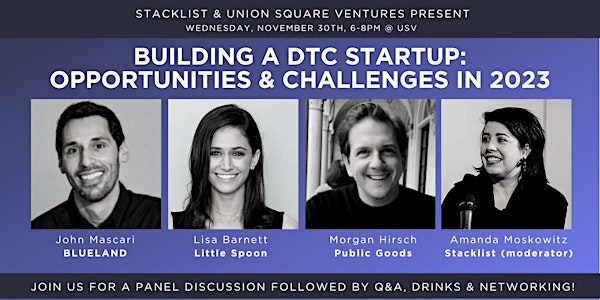 Building a DTC Startup: Opportunities & Challenges in 2023
Join the founders of Blueland, Little Spoon and Public Goods for insights and advice on building a successful DTC business.
When and where
Location
Union Square Ventures 817 Broadway New York, NY 10003
About this event
TL:DR
On November 30th, 6-8PM, join us at Union Square Ventures for a panel discussion for early-stage entrepreneurs: "DTC Startups: Opportunities & Challenges in 2023" with Lisa Barnett (Little Spoon), Morgan Hirsch (Public Goods) and John Mascari (Blueland). We'll have cocktails & networking after the panel! 🍷🍻
Why this is an important topic for startups: Direct-to-consumer (D2C) startups have revolutionized e-commerce by dis-intermediating and redefining retail. From startups to growth-stage companies, the D2C business model has become increasingly popular. With the rise of social media, and online tools like Shopify and Stripe, entrepreneurs have never had an easier time creating an online shop and selling their product. These entrepreneurs get a direct relationship to their customer, and, by cutting out the middleman, they increase their own margins - which can also benefit consumers.
Founder pain points: While the technology has empowered entrepreneurs, launching, sustaining and growing a D2C startup is by no means easy. Those tools have made markets only more crowded. To succeed, entrepreneurs must nail product development, including design, manufacturing, pricing and logistics for inventory and they have to differentiate themselves and manage the economics of customer acquisition.
What we'll cover:
Differentiating your brand and navigating crowded marketplaces
Financing your operation - from budget-friendly early days to growth-stage venture
Designing, pricing and manufacturing your product
Building inventory operations that can flexibly service different models including subscriptions, bundling and drop-ship.
Navigating macro-economic factors that affect your costs
Strategically growing categories and SKUs
Expanding into other channels: timing, economics and objectives