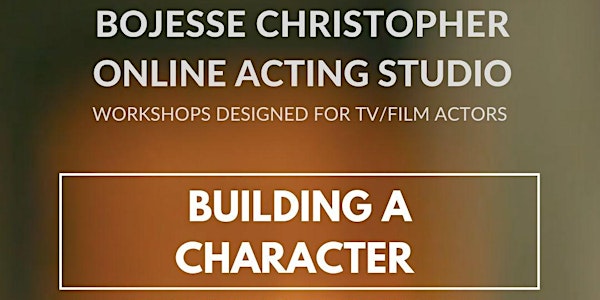 Building a Character (TV/Film): Strong Smart Emotionally Connected Choices
Building a Character (TV/Film): Strong Smart Emotionally Connected Choices
Refund Policy
Contact the organizer to request a refund.
Eventbrite's fee is nonrefundable.
About this event
PURCHASE "WORKSHOP CREDITS"
BOJESSE CHRISTOPHER ONLINE ACTING STUDIO
Live Workshops Designed for TV/Film Actors
WORLDWIDE ON ZOOM
BUILDING A CHARACTER: STRONG SMART EMOTIONALLY CONNECTED CHOICES
Who are you?
What do you want?
How do you feel?
How do you feel about the other person?
Strong point of view
COACHED BY ACTOR BOJESSE CHRISTOPHER
(FOX's "Deputy", HBO's "True Detective", CBS' "NCIS", 20th Century FOX's "Point Break" & many more)
THERE'S ONLY ONE YOU -- YOU'RE ENOUGH
DON'T PLAY IT -- BE IT!
OUR WEEKLY LIVE WORKSHOPS
* Acting for Camera
* Acting Career Quickstart
* Scene Study
* Building A Character
* Acting Technique
* Emotional Confidence
* Personal Brand Identity
* The Proud Self Tape
* Voice Acting
* Commercial Acting
APPLY PURCHASED CREDITS
TOWARDS ANY COMBINATION OF OUR LIVE WORKSHOPS
LIVE WORLDWIDE ON ZOOM
AVAILABLE AM AND PM | SEVEN DAYS A WEEK
ATTEND AT YOUR CONVENIENCE
BY RESERVATION ONLY
COST + CREDITS
8 Workshop Credits @ $50 each = $400 ($160 Savings)
4 Workshop Credits @ $65 each = $260 ($20 Savings)
2 Workshop Credits = $140 ($70 Each)
1 Observation of Workshop Credit = $30 (Non-Participating)
*Cancellations: 24 hour notice is required for any reason and will be noted.
**Credits & Workshops info below in flier.
A NOTE FROM BOJESSE
Based on 30+ years of experience as a professional film and television actor, the work is a journey into self-discovery to identify and take ownership of your unique emotional instrument, revealing your innate personal brand. I encourage each actor to make the teachings their own, and forge a path towards creative and economic success through inspired action.
CUSTOMIZE YOUR WORKSHOP EXPERIENCE - QUESTIONS? ASK US HOW
Phone: (310) 985-0465
Email: bojessechristopher@gmail.com
LIKE, SUBSCRIBE, SHARE, REVIEW!
IMDB - BoJesse Christopher - TV/Film Credits
VIMEO - Coaching Content
YOUTUBE - BoJesse Christopher | BoJesse Christopher Acting Studio
INSTAGRAM - @BoJesseChristopher  |  @BoJesseChristopherActingStudio
FACEBOOK - BoJesse Christopher  |  BoJesse Christopher Acting Studio
TWITTER - threalBoJesse | BJCactingstudio
YELP - BoJesse Christopher Acting Studio