Location
東京電機大学 1号館
足立区千住旭町5
東京都 120-8551
Japan
Description
(English follows Japanese)
buildersconは「知らなかった、を聞く」をテーマとした技術を愛する全てのギーク達のカンファレンス/お祭りです!ハードウェア、セキュリティ、プログラミング、未来技術と様々な分野のトークを聞いたり、それらに興味のある方達と交流することができます。
チケットの買い方がわからないという方は是非こちらのガイドをご確認ください。
チケット種別
一般: 前夜祭+8/30+8/31全セッション参加可能、スポンサーノベルティ詰め合わせ、トートバッグ、公式Tシャツ
サポーター(旧称:個人スポンサー):一般チケットの内容 + 追加ノベルティ、オープニング・クロージングでのクレジット掲載
コンプリートパック: 限定30枚。これでチケットの買い忘れ無し!サポーターチケットの内容 + 懇親会、スピーカーディナー、アフターパーティー 全ての参加枠
学生:前夜祭+8/30+8/31全セッション参加可能。無料。ノベルティはつきません。別途入場時に学生証の提示をお願いいたします。
スポンサー・スピーカー:別途購入方法を連絡いたします。
一般・学生・サポーター・スポンサーチケットご購入の場合、後日メールで懇親会チケット販売の連絡があります。連絡が来ましたら、改めて懇親会チケットをご購入ください(7月末予定)。
スピーカーディナー(2018年版のお知らせ)および会期後に開催されるアフターパーティーに参加希望の場合も、別途発表がありますので、改めてチケット購入をお願いいたします。
「本編チケット購入時に先に懇親会等の参加枠を確保しておきたい」という場合は「コンプリートパック」のご購入をご検討ください。コンプリートパックならチケットの買い忘れ無しです!
この他にスポンサー様等、関係者用のチケットも発券しますが、そちらは個別に別途案内させていただきます。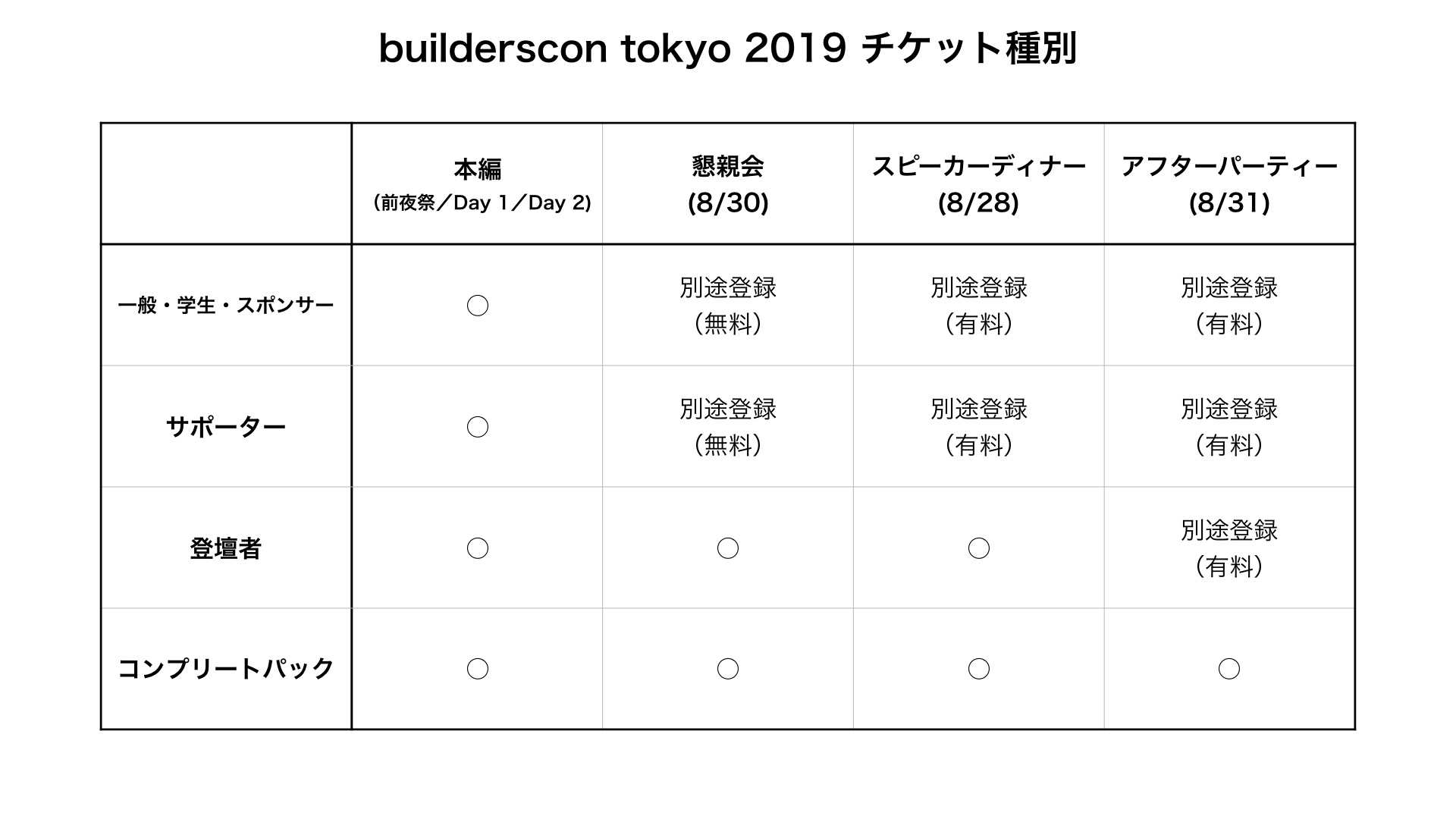 懇親会・アフターパーティー
8月30日 に当カンファレンスの無料懇親会があります。懇親会は普段はなかなか話すチャンスのないスピーカーの方々や、他の参加者とネットワーキング・情報交換ができる最高の機会ですので、是非ご参加ください! 
また、8月31日にカンファレンス終了後にまだしゃべり足りない!という方のための有料アフターパーティーを会場近辺の店舗にて開催予定です。
アフターパーティー・懇親会は本編チケットをお持ちの方のみに、本編チケットを購入する際に記入していただいた連絡先に案内させていただきます。スタッフおよびスピーカーの方は登録の必要はありません。
「本編チケット購入時に先に懇親会の参加枠を確保しておきたい」という場合は「コンプリートパック」のご購入をご検討ください。コンプリートパックならチケットの買い忘れ無しです!
その他
【チケット料金支払先】
本イベントのチケット料金は、本イベント運営についての事務等をとりこなっている「株式会社endeworks」宛てに支払われます。
【イベントに関するお問い合わせ】
チケットシステムについてのお問い合わせはbuilderscon 運営チームではお答えかねますので、eventbriteへ直接お問い合わせのほどお願いいたします。

イベントに関するお問い合わせは公式サイト上の「CONTACT」に表記されているアドレスまでお寄せ下さい。
皆様のご参加をお待ちしております!


---
builderscon is a tech conference where we would like you to Discover Something New. Our goal is to gather enthusiasts from many different areas of technology including, but not limited to, hardware design/development, programming, security, future-tech, etc, and have you cross-polinate ideas, and make new connections.
Ticket Types
Regular Tickets: Pass to enter conference through all dates. Swags: sponsor swags, tote bag, and T shirt.
Supporter (ex. Individual Sponsor): Regular ticket + extra swags, credits show at Opening/Closing
Complete Pack: Supporter + Admittance to Speaker Dinner (Aug 28), Social/Dinner (Aug 30), and After Party (Aug 31)
Student: Pass to enter conference through all dates. Free. Requires valid student ID.
Sponsor/Speaker: We will announce how to register separately.
With a purchase of a regular/student/supporter/sponsor ticket, you will be notified via email on how to sign up for the Social/Dinner at a later date (late July).
There will be announcements on how to signup for Speaker Dinner (Aug 28) and After Party (Aug 31) at a later date.
If you would like to avoid forgetting to sign up for any of those events, please consider purchasing the Complete Pack. With the Complete Pack, you will be admitted to all of the events!
We will also provide special tickets for sponsors and other personnel. You will be individually notified later.
Conference Dinner / After Party
On August 30, we will hold the conference dinner. Due to capacity limitation, we require those who wish to attend to purchase a separate (FREE) ticket later.
On August 31, we plan on holding an After Party at a near by location (TBD). Participation to this event requires a separate paid ticket.
We plan to announce details on how to register for both events above after ticket sales closes. If you do not want to forget purchasing a ticket, please consider purchasing the Complete Pack.
If you are speaker or staff, you do NOT need to purchase this ticket.
Miscellaneous
Payments
Payments for this event will be made to endeworks Inc, which handles the business-related aspects of the conference.
Contact Information
For questions on the ticketing system, please contact eventbrite directly.
For other questions regarding the event, please contact us at the address shown on our main site under "CONTACT".