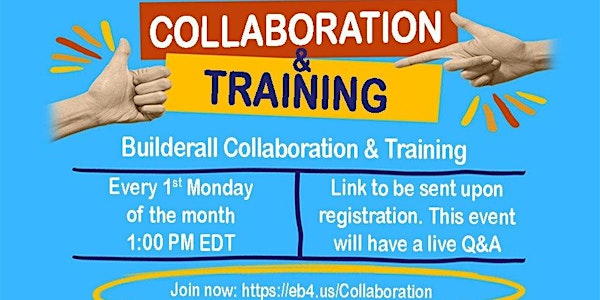 Builderall Collaboration & Training with Shannon Procise
Builderall Collaboration & Training with Shannon Procise
About this event
🤔 𝐴𝑟𝑒 𝑦𝑜𝑢 𝑙𝑜𝑜𝑘𝑖𝑛𝑔 𝑓𝑜𝑟 𝑎𝑛 𝑎𝑙𝑙-𝑖𝑛-𝑜𝑛𝑒 𝑚𝑎𝑟𝑘𝑒𝑡𝑖𝑛𝑔 𝑡𝑜𝑜𝑙 𝑡𝑜 ℎ𝑒𝑙𝑝 𝑡𝑎𝑘𝑒 𝑦𝑜𝑢𝑟 𝑏𝑢𝑠𝑖𝑛𝑒𝑠𝑠 𝑡𝑜 𝑡ℎ𝑒 𝑛𝑒𝑥𝑡 𝑙𝑒𝑣𝑒𝑙? 𝑳𝒐𝒐𝒌 𝒏𝒐 𝒇𝒖𝒓𝒕𝒉𝒆𝒓 𝒕𝒉𝒂𝒏 𝑩𝒖𝒊𝒍𝒅𝒆𝒓𝒂𝒍𝒍.
👍Our powerful platform provides everything you need to create and manage your online presence, from website creation and hosting to email marketing and social media management. Plus, our easy-to-use tools make it simple to get started, even if you're not a tech expert.
Whether you're just starting out or you've been in business for years, Builderall can help you achieve your goals. We provide everything you need to attract new customers and grow your business, all in one convenient place. With Builderall, there's no need to piece together different marketing tools from different providers. We give you everything you need to succeed, all in one easy-to-use platform. ☑️
✋Stop wasting time and money with multiple marketing tools. Streamline your workflow with Builderall today! Check out Builderall at https://office.builderall.com/us/franchise/share/1335512
Join our networking and training and collaborate with other cool people. You can invite your friends or teammates to learn and grow.
📌 𝐁𝐮𝐢𝐥𝐝𝐞𝐫𝐚𝐥𝐥 𝐂𝐨𝐥𝐥𝐚𝐛𝐨𝐫𝐚𝐭𝐢𝐨𝐧 & 𝐓𝐫𝐚𝐢𝐧𝐢𝐧𝐠 𝐰𝐢𝐭𝐡 𝐒𝐡𝐚𝐧𝐧𝐨𝐧 𝐏𝐫𝐨𝐜𝐢𝐬𝐞
Join us every first Monday of the Month at 1 pm EDT
𝐑𝐞𝐠𝐢𝐬𝐭𝐞𝐫 𝐡𝐞𝐫𝐞: https://us02web.zoom.us/webinar/register/3916675011509/WN_y-FAPe07THy3kM36AqWEgg