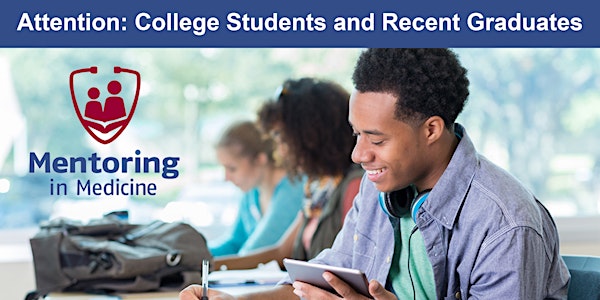 Build Your Scientific Reading Skills and Prepare for the MCAT
Proven strategies to improve your MCAT score
About this event
Build Your Scientific Reading Skills and Prepare for Standardized Exams (for College Students and Recent Graduates)
End Date: Friday, August 28
Time: 8pm - 9pm EST
Frequency: Five days a week from Monday to Friday
Cost: $50
Are you interested in pursuing a health professional graduate degree? Have you started studying for the MCAT, GRE, or DAT? From now until Friday, August 28, MIM is hosting a daily webinar that consists of a 60-minute review of a passage from the Critical Analysis and Reasoning Section of the MCAT. From the comfort of your home, you can interact with the instructor and other students on a daily basis from Monday to Friday.
The cost is $50 for the entire program and you will gain access to the AAMC MCAT Official Prep Critical Analysis and Reasoning Skills Question Pack, Volume 1 ($15 value)
Frequently Asked Questions:
General Guidelines
CARS is one of four sections on the Medical College Admissions Test (MCAT) based on humanities and social sciences. It is 90 minutes, with nine passages followed by about 5-7 questions per passage.
CARS tests you understanding and comprehension of the passage by asking questions from three main categories
Comprehension
Reasoning within the text
Reasoning beyond the text
When creating an AAMC account, please make sure it is an email that you will be using long term. You will use the same email to apply for medical school. Make sure that if you are using a college email that you follow up with your school to make sure you are aware of email deactivation policies.
Get familiar with the AAMC website. You will be using this website to access AAMC test prep materials, important announcements regarding the MCAT and medical school, schedule your MCAT test date and much more.
MIM CARS is a student-led and driven class. Please come prepared to share your insight, strategies, and participate in class discussions.
Please join the Mentoring in Medicine workspace in Discord. We will be communicating and continuing our conversations in the #daily_cars channel.
Frequently Asked Questions
Who is eligible for the program?
The CARS program is targeted towards students who are preparing for the MCAT. However, we strongly encourage students starting from middle school and beyond to participate in this program to strengthen their reading and critical analysis skills.
What is the cost of the program?
The CARS program costs $50. You will gain access to a Zoom link for live classes and access to the AAMC CARS Question Pack, Vol. 1.
When are the meeting days/time and what is the duration of the program?
CARS is hosted from Mondays-Fridays from 8-9PM. The program started on June 17th, 2020 and concludes on August 28th, 2020.
The start date has passed, can I still register?
Yes, you absolutely can register. Please click here to register. Please make sure that when you register, you use the email address that is linked with your AAMC account if you have one or use the email address you will use to make an AAMC account.
How can I access the live session?
Upon registration, you will receive an email with the Zoom link. Please do not share this link with anyone else. Only those who have paid and registered have access to this link.
How can I access the AAMC CARS passages?
You will receive an email from the AAMC with a link to redeem the AAMC CARS Question Pack, Vol. 1. You will be prompted to either make an account with the AAMC or to sign in to an existing AAMC account. Once you have redeemed the question pack, you can access it under "Products".
Can I reset the passages once I have completed them?
Yes, you can reset the passages at any time. Keep in mind that resetting will erase all data from all the passages.
Is there any pre-work to complete before class?
During the week, we ask that you aim to complete the daily Jack Westin passage (https://jackwestin.com/). Once you register you will be given access to a private social networking site to connect with your fellow classmates for support. We strongly advise that you do not complete the AAMC passages before class as we will review the passage and answer the questions together.
How do I log into my AAMC account?
Please click here to access the document with step by step instructions and visuals.
How can I improve my CARS scores?
To improve your scores, you should practice daily using Jack Westin passages. You should also aim to read one scientific article related to humanities and social sciences each day.