Build Your Prosperity Machine for 2012: Realign and Prime the Engine for your Business and Get Your Message Out to the World

Monday, December 12, 2011 at 11:00 AM

-

Friday, December 16, 2011 at 12:30 PM (PST)
Event Details
I'm offering this Course One Time Only
Realign Your Business Vision
and
Demystify Your Marketing and Social Media
Are you in business, but feel you've hit a wall?
Was 2011 less profitable than you wanted? Do you want to increase revenue?
Are you thinking about going into Business and don't know how to market?
Does marketing in today's internet world confuse you?
Want to know how to use social media in less than 20 minutes a day?
As a business owner you know that Being in business can be one of the most rewarding experiences in life.
Staying in business is the biggest challenge.
To stay in business, you need a plan and you need to know how to market. From my own experience, I know that overcoming the challenges of entrepreneurship requires clear decisions toward a clear goal and vision that will ensure the company's viability and growth. In today's economy, you need to build relationships and treat your customer base as your community, as your "tribe."
When I started my first businesses I had to look in hundreds of places for information on How To Do Business -- how to find clients, attract them, and keep them... and keep them referring others. As I sifted through all that information, I always wanted someone to walk me through how everything works together so that I could choose what I wanted to do for MY business. 
I didn't need theory and rhetoric, or rah-rah coaching, or endless self-analysis. I didn't have the money to hire consultants for everything I didn't know. I didn't have the time to take lots of courses -- I had a business to run! I needed plain, easy to understand information so I could build and run my business. And I didn't have tens of thousands of dollars to spend to get it.
Unfortunately, no single source told me what I needed to know, and I had to put all the pieces together on my own. It took years, and because of the fast growth of the internet, the information kept changing rapidly.
I helped build a million dollar family business using traditional business systems in one of the toughest industries. Then my business partner ultimately decided he didn't want to be a businessman. He actually said the dreaded words, "I don't want clients!"
I watched helplessly as the company came to a screeching halt. No amount of negotiating or cajoling or repositioning could save it. That's when I learned the hard lesson on the primary importance of the entrepreneur's mindset in the survival of a business -- and attracting paying customers, who are the lifeblood of a company.
So as that painfully company closed down, I spent a lot of my TIME, and some good amounts of my money to find answers about doing business in today's world that made sense. Slowly I put the pieces together and used them in my business and with my consulting clients.
I found that no matter how big or small your business is,
the New Business Basics apply at ALL STAGES of a business's lifecycle.
because your business is a living, breathing entity -- it is an extension of you and you are in total control.
The most important components of a business are:
1) the owner's mindset,
2) getting a clear message out so you can be found,
3) making it easy to buy, and
4) delivering what you promise.
It all comes down to you and your marketing: who you are, how you show up, how people find you, and what experience people have with you.
One Time Only 6-class Course: I have to be blunt. This is information that's taken me years to learn and understand, and I'm condensing it down to six sessions.
I keep telling myself I must be crazy to share it this way.
It really should be much, much longer, but I wanted to take all this knowledge and put it together in these classes so you can understand how it all can work together for YOUR business without having to slog through weeks and weeks of classes.
I'll share my integrated system for continually priming the engine of any business by focusing on getting your message out to the world based on the essence of your business.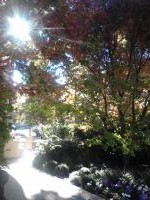 In this 6-class series, we will go through your business together -- from the inside out. I'll explain things in simple terms, and walk you through easy yet powerful processes to really uncover the plan that works best for you and your business.
In the classes, we will cover:
Your Inner Game: Look at your values, passions, strengths, talents, beliefs, and desired experiences.
Your Outer Game: Look at how your inner game shows up in your business.
The Business of Your Business: Dig deep to define What your Business Is, Who your Customers Are, How You conduct business for Longevity and Sustainability.
Getting Your Message Out: Marketing and Sales using traditional methods and new media in ways that won't bog down your schedule.
Your Plan: Create Goals and Schedules to succeed the way YOU want.
Each class will be packed with information, and you will need to do some short exercises for each one.
~ * ~
Here's what we'll cover in each class:
1: The Inner Game: Get Ready to Thrive! ($197 value)
December 12th, 11am Pacific / 2pm Eastern
The most important driver of your company is YOU. How you think, what you want, what you value affects every decision and every system in your company. The success of your business depends on your level of clarity about who you are and what you want. EVERYTHING else follows. In this class, we go past the general platitudes and get down to the Business of Definition.
- Identify the 5 things that guide your every decision and determine whether you are happy with your life or not.
- Learn the two most important questions that keep you in the driver's seat at all times.
- Learn the one thing that will keep you going in the toughest times.
"I highly recommend this class... get ready to take off and fly.  Live life with passion."
- Cindy C.
2: Your Business Message and Marketing Goals ($497 value)
December 13th, 11am Pacific / 2pm Eastern
You've heard of the Elevator Pitch or the Tag Line. We'll break it down so you can communicate your message quickly and clearly. But that's only part of the equation. We'll look at your ideal customer. Then we'll do a brief review of the many offline and online ways you can get your message out, and money in.
- Know once and for all who your business serves and how you best serve it.
- Step in your ideal customer's shoes.
- Learn how to easily let prospects know how you can help them.
- Nail down your marketing goals.
3: Your Offline Marketing Strategy ($197 value)
December 14th, 11am Pacific / 2pm Eastern
We'll go over more than 10 tried and true methods of offline marketing. Then we'll look at how they can be combined with online marketing to flow into a simple Customer Acquisition and Retention Management Program. Be ready to take lots of notes! 
- Identify at least 5 offline marketing strategies for your business.
- Identify your sales funnel.
- Start to design your Customer Acquisition and Retention Management Program.
4: Your Online Marketing Strategy (a $197 value)
December 15th, 11am Pacific / 2pm Eastern
In this class we'll review the elements of a website and its purpose, give some tips for Search Engine Optimization, look at free online opportunities for exposure, online outlets for your message, and many ways to increase your online visibility. We'll talk about articles, newsletters, paid ads and other means to get your message out. The goal is to drive traffic to your website and doorstep.
- Understand how your website fits into today's online marketing strategies.
- One of the best ways to set up your website today so YOU have control.
- What is Search Engine Optimization and some tips on how to do it.
- We'll demystify how to find your "keywords."
- How to get in front of people online.
- How to get your message out while you sleep.
- Inexpensive online ways to do traditional publicity.
- How to turbocharge your online marketing results.
5: Social Media:  Twitter, Facebook, LinkedIn, Blogs & More($197 value)
December 15th, 1pm Pacific / 4pm Eastern
Social Media: Wondering what all the fuss is about? We'll explain and give tips and tricks for each, and explain how to make them work for your business. See how large corporations are jumping on these low- and no-cost avenues to reach their customers and make money.
- Get an overview of social media - what it is and how it works.
- Understand why and how big corporations are using social media.
- The Big 4: What's the difference and which ones should you use?
- Three things you should do to increase your visibility and traffic.
- How to set up your social media accounts for increased exposure.
- Learn 3 ways to use LinkedIn for your business.
- Learn tips about blogging so you don't eat up entire days writing.
- The One thing that will Turbocharge Your Entire Marketing program
6: Putting It All Together: Create Your Plan ($497 value)
December 16th, 11am Pacific / 2pm Eastern
Here's where we put it all together for your Customer Acquisition and Retention Program -- online marketing, offline marketing, customer acquisition activities, customer retention activities.
- Your message and customers
- Offline marketing - 2 strategies you MUST use.
- Online marketing - Your website, social media, and others
- Online purchasing - Focus will be on using PayPal for this session.
- Customer retention and referrals
- Your PLAN --> Goals - short-term and long-term
- Business Systems and Resources
* * * * *

Class Schedule

Monday, December 12th at 11am Pacific / 2pm Eastern
Tuesday, December 13th at 11am Pacific / 2pm Eastern
Wednesday, December 14th at 11am Pacific / 2pm Eastern
Thursday, December 15th at 11am Pacific / 2pm Eastern
** Thursday, December 15th at 1pm Pacific / 4pm Eastern **
(Note that there are two classes on Thursday, December 15th)
Friday December 16th at 11am Pacific / 1pm Eastern
So there you have it -- 6 information-packed classes worth Lots More than $1,800, offered to you now  One Time Only for $293.
BONUSES: 
** #1 Free Report: "7 Tips to Get More Customers"  When you sign up, you also will receive this valuable report that contains 7 powerful ways to generate income from what you already have.
** #2 PLUS you will receive my "Daily Boost" messages, aimed at keeping you focused on creativity and innovation in your business.
** #3 BONUS: Each attendee will receive a FREE consultation with me after the last class. **
~ * ~
EXTRA BONUS for the first 12 people to register by December 7th:  You will receive
a FREE consultation with me about your business BEFORE the first class.
"I would highly recommend the service of WLA Global. Baylan has been very professional and she was able to get my vision for my new consulting company right away. It was well worth it for me to contract with her. She enabled me to spend more time developing my content while she worked on the logistics of how to present it to the public. I would not hesitate to use her again." - Michael C. 
~ * ~
I want to see thousands of businesses explode in 2012 -- will yours be one of them?
~ * ~
Limited Spaces Available -- Register NOW!
 Registration includes study sheets and MP3 recordings.

** If you miss a class, you will be able to listen to the MP3 recording at your own pace. **
30-Day Money-Back Guarantee:  I know that building your business from the inside out, and using a program that integrates both online and offline marketing to get your message out to the world, will create great change in your business.
As You change, your Business will change. 
My guarantee is that after you attend all the classes and do all the work, if within 30 days after the first class you can truthfully tell me that you are not 100% convinced that it has helped you in the redirection, growth, or expansion of your business, then contact me to receive back 100% of your tuition!
So are you ready to Shift into A Higher Gear ?
Join me this December to Design Your Business to Thrive in 2012...
Make 2012 your Best Year Yet!!!
Lock In Your Spot Today
__________
About WLA Global and Baylan Megino: Baylan Megino established WLA Global to meet the marketing and structural business needs of companies, individuals, and organizations. She has worked in businesses as diverse as architecture/engineering, international finance, venture capital, construction, real estate investing and development, alternative healing, network marketing, and business consulting.
Baylan Megino works with business owners to optimize income, focusing on online and offline marketing to get your message out to the world. Whether finding new ways to reach markets cost-effectively, or improving internal systems to enhance Customer Retention Management, WLA helps get your message out to the world so your company grows.
   .
Questions? Contact Baylan directly with your questions at Baylan@WLAGlobal.com . Type "Thrive in 2012" in the subject line.
Have questions about Build Your Prosperity Machine for 2012: Realign and Prime the Engine for your Business and Get Your Message Out to the World?
Contact Baylan Megino and WLA Global
When
Monday, December 12, 2011 at 11:00 AM

-

Friday, December 16, 2011 at 12:30 PM (PST)
Add to my calendar
Organizer
Baylan  Megino supports entrepreneurs, executives, creatives, and small businesses in creating businesses and lives that align with their core values and passions. She is the founder of the Dream Maker Movement, and offers Visioning Workshops and Life Alignment Courses.
* Embody Your Dream & Activate Your Vision: Dream Maker Visioning Workshop
* Dream Maker: 6 Simple Steps to Get Your Life On Track
WLA Global provides marketing services and strategic consulting for businesses to maximize income with minimal effort. Through our powerful integrated approach, WLA Global helps you get your message out to the world.