Description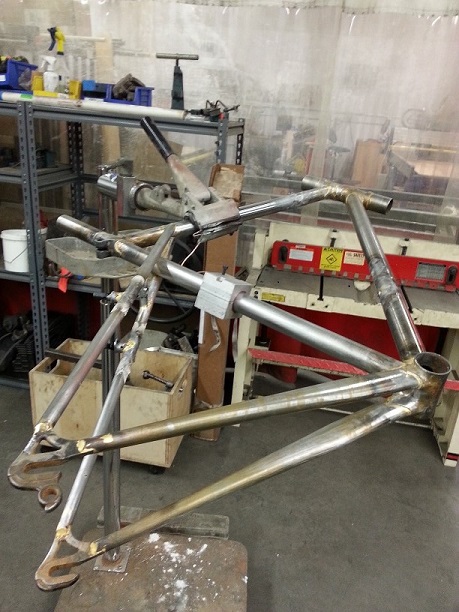 Course Description:
Whether you're an avid cyclist looking for a durable frame which fits you better than anything off­-the­-shelf, a commuter looking for a bicycle with personal touches which suit your needs perfectly, or just interested in learning a new skill which elegantly fuses science and craftsmanship, this class will teach you a functional craft with roots dating back more than a century. You'll also come away from the class with your own lugged steel bicycle frame!
Students will be able to design their own frame geometry (within reasonable limits) to fit their size and riding style. You can achieve things not possible with a store­-bought frame – customize the ride with different frame angles, add extra mounting points for accessories such as fenders or water bottles, and make a bike unlike any other on the road. You'll use the Asylum's frame jigs and brazing equipment, and will be guided through learning to design a frame, choosing appropriate materials, mitering tubes to fit each other in a frame, and most importantly, crafting strong and durable lugged joints.
**Please Note - This is an extremely intensive class. ***Some level of Artisan's Asylum membership will be required to allow you to work on your project outside of class.*** If you're not an Artisan's Asylum member when you sign up for this class, you'll need to assess which membership access will make most sense for you: check out info on our website: https://artisansasylum.com/membership/.
Class Goals:
At the end of the class, you'll have your own unpainted lugged steel road bicycle frame! The frame will be custom designed (by you) to fit your body, preferred riding style, and components. You'll be able to customize your lugs with simple patterns and designs, but in order to keep the focus of the class on the construction of a quality frame, tubeset and lugset choices will be limited. You'll learn to create a full­size drawing to work from, to cut and shape steel tools and components, and to braze everything together into a durable and functional assembly. You'll need to take it to a bike shop for final reaming of the seat tube, head tube, and bottom bracket, and add paint and components to complete your bicycle.
Prerequisites:
No previous experience required. The Intro to Brazing class at the Artisan's Asylum is a recommended co-requisite. Students must be at least 18 years old.
Materials:
Materials will be ordered during the course of the class to your specifications and are largely built into the class price.­ You'll be able to choose dropouts, braze-ons, and fender, rack, and water bottle mounts to fit your chosen geometry and style of riding. Your material fee covers your choice of frame tubes and parts, brazing rod, flux, a good ­quality file, and some emery cloth. There may be other small ($10 - ­15) costs during the class, for things such as extra practice material or small tools, but these will be discretionary.
Event Times:
Week 1 - Tuesday, 1/31/17, 7:15-9:45pm: Lecture and discussion of frame design theory. Introduction to brazing safety. Order materials.
Week 2 - Tuesday, 2/7/17, 7:15-9:45pm: Introduction to brazing and tube mitering
Week 3 - Tuesday, 2/14/17, 7:15-9:45pm: Tube mitering / preparation, brazing practice
Week 4 - Tuesday, 2/21/17, 7:15-9:45pm: Jig setup / Front triangle brazing
Week 5 - Tuesday, 2/28/17, 7:15-9:45pm: Front triangle brazing
Week 6 - Tuesday, 3/7/17 , 7:15-9:45pm: Rear triangle mitering, brazing
Week 7 - Tuesday, 3/14/17, 7:15-9:45pm: Rear triangle brazing
Week 8 - Tuesday, 3/21/17, 7:15-9:45pm: Rear triangle brazing
Week 9 - Tuesday, 3/28/17, 7:15-9:45pm: Braze-ons / cleanup
Week 10 - Tuesday, 4/4/17, 7:15-9:45pm: Alignment and cold setting
***Please note that completing your frame within the allotted class time frame WILL REQUIRE 3-4 hours per week of outside-of-class 'homework' to be completed in the shops at Artisan's Asylum. Some of this may be guided by the instructor, but much of it will be independent work time.

***Membership to the Asylum is not included in your ticket price, choose your access level according to your needs, see our website for more info here: https://artisansasylum.com/membership/
Instructor Biography:
Danaan Metge is a mechanical engineer and machining instructor at the Artisan's Asylum.
---