Description
Want your own desktop 3D printer? We will give you a kit + teach you how to put it together, tune it, and to print parts!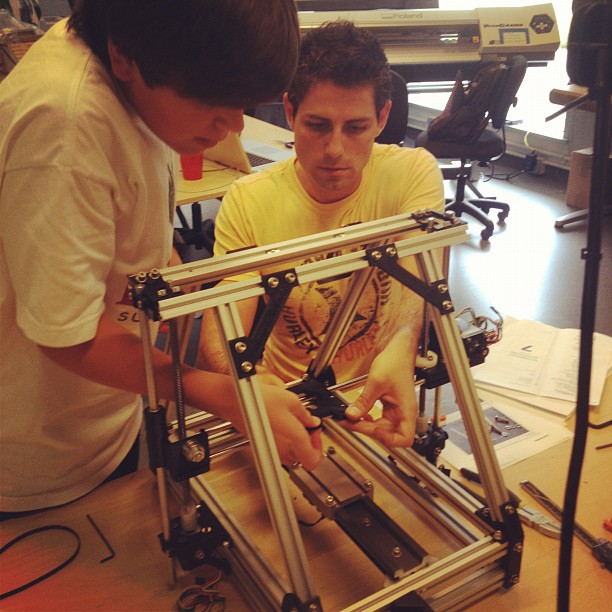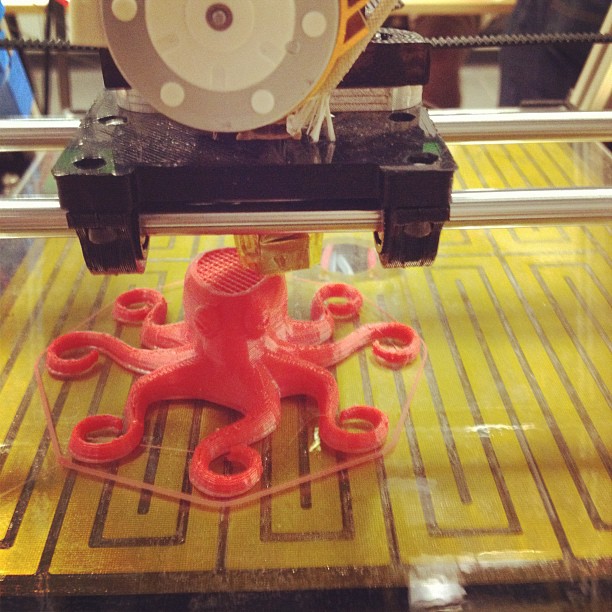 2-days workshop
10/6-7 (SAT&SUN)
*****SPACE LIMITED. Reserve your seats now!*****
In this class, you will be building a MendelMax 1.5, the most advanced version of the RepRap 3D printer. Since many parts of the RepRap are made from plastic, they can be printed on a RepRap, meaning the RepRap self-replicates by making a kit of itself - a kit that anyone can assemble given time and some additional materials. It also means that - if you've got a RepRap - not only you can print out all sorts of fun stuff, you can also print all the plastic parts needed to make another RepRap for a friend, or use the knowledge to fix it, repair it, and 3D-print upgrades!!
PLUS: each 3D printer will come with a free licence of MOI v2, easy to use 3D modeling software. (a $295 value)
We CARE about quality: we have built many 3D printer kits, and have concluded that this is the BEST value currently available, in terms of price, build volume, rigidity, precision. Each class will be limited to 7 kits to ensure everyone gets the attention you need.
All of our instructors from Hive76 have been working in this field since the beginning. We are passionate about 3D printing and committed to spreading the knowledge to everyone!
During this class, you will build it, tune it, learn the software, and test print, all in one workshop! At the end of the workshop, you will walk out the door with a working 3D printer! It's a pretty time/labor intensive process, so get yourself ready!
Day 1 : 10:00AM - 1:00PM Assembling Hardware
(Break: Lunch provided)
1:30PM - 9:00PM Wiring Electronics
Day 2 : 10:00AM - 1:00PM Software + Machine Tuning
(Break: Lunch provided)
1:30PM - 8:00PM 3D Printing
What to bring:
- A laptop + powercord (OS X 10.6+ and Ubuntu 11.04+ are recommended for robotics control and 3D printing. Windows should work but due to the variability in Windows systems you may have some hurdles to getting the proper software installed. You will need Python v2.7+, the Arduino environment, and a few other bits.)
- Enthusiasm and a passion for learning and helping others learn.
- Bring your friends! (3 Students MAX per kit): Bring a friend, a parent, your kids, anyone else you want to help you build your kit and learn all of its inner workings and how to fix it!
For more information please email itsuki.ogihara@nextfabstudio.com
About the instructors:
Jordan is a founding member of Hive76 in Philadelphia and a post-doctoral fellow at the University of Pennsylvania. His research in the department of Bioengineering combines chemistry and rapid prototyping to direct cultured human cells to form more complex organizations of living vessels and tissues. Jordan has been in the 3D maker community since the beginning. He developed the MakerBot heated build platform at Hive76 and uses his MendelMax every day in the lab for biomedical research.
Chris is a designer and digital artist in Philadelphia and a member of Hive76. He produces Creative Commons Licensed, digitally generated art and has designed and produced a few products such as the Math Clock and Meatcards. Chris is also a 3D printing aficionado and co-developed a new hobbed bolt for RepRap extruders which you will get as part of your MendelMax 1.5 Kit!
Organizer of Build Your Own 3D Printer
NextFab is a network of membership-based makerspaces that helps grow the budding entrepreneur, by providing its community of members access to machinery, education, and professional services. NextFab's combination of traditional tools and digital technology helps their members solve problems to make things better. NextFab offers users education on and access to manufacturing and prototyping equipment, as well as professional design, production, and placemaking services for individuals' fabrication needs, and is associated with the maker culture and DIY culture. NextFab owns and operates three locations in the mid-Atlantic Region (South Philly, North Philly and Wilmington, DE).