Get ready to learn from highly successful real estate professionals how you can start and build a successful career as a real estate agent.
About this event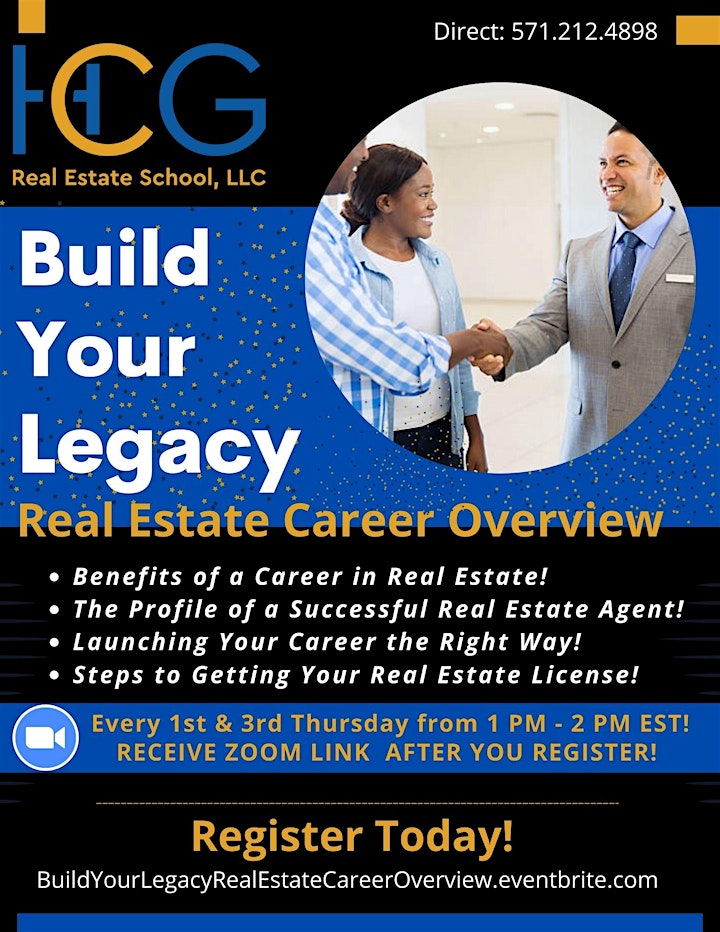 You are cordially invited to our online Zoom Build Your Legacy Real Estate Career Overview to explore starting a career in real estate and learn from veteran highly successful real estate professionals about how you can Build Your Legacy as a professional real estate agent! 
Topics covered will include:
Benefits of a Career in Real Estate!
Being Clear and Committed to Your Why!
The Profile of a Successful Real Estate Agent!
Commitments You Must Make to Build Your Business!
Getting Your Real Estate License!
Choosing the Right Brokerage to Build Your Legacy!
Launching Your Real Estate Career the Right Way to Succeed as a Dual Career Agent, in Your 1st 90 days and Your 1st Year!
New Agent Mentoring Program
Q & A!
Next Steps! 
This is your opportunity take your career, income and lifestyle to the Next Level!  Come with high eXpectations!
Registration is FREE and required as spaces are limited.  Thank you, and we look forward to seeing you.
FAQs: 
How do I gain access to the online virtual video link to the event?
After you register on eventbrite you will receive a confirmation email immediately with the Zoom video conference link.
Can I share this event with others who want to explore a career in real estate?
Yes, however each person must register for this event because spaces are limited.