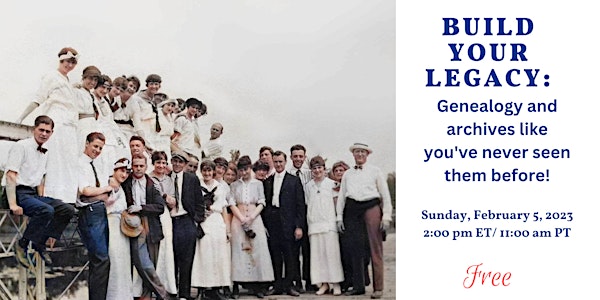 Build Your Legacy: Genealogy & archives like you've never seen them before
Learn how Genealogy and Archives can work together to uncover your past and leave a mark on the future.
About this event
1 hour 30 minutes

Mobile eTicket
Does thinking about family history leave you feeling overwhelmed about where to start? Think your family story is insignificant? Join us!
Discovering and preserving your story is both powerful and joyful! We will show you why, and how to get started.
Genealogist Bernadette O'Brien Thompson (TellMeOurStory.com) will introduce you to what you need to know … as you discover and save your story. You'll find the amazing connections that you have with your ancestors.
Discover the excitement of finding previously unknown documents, stories, newspaper articles bring you as you uncover your past.
Once you find it you don't want to lose it!…Learn why building an online tree is the best way to save your family story.
Where do I begin? There are many, many research sites. Bernadette will help you understand them and choose the best sites – and how to begin your research.
Is DNA really an important tool? Yes! And maybe…we will talk through all the important things you need to know when making your decision.
Bernadette will offer you a downloadable guide to gathering what you need to begin your journey.
Discover the differences between genealogy and archives, and learn how they work together to unlock stories from the past and shed light on gifts of your heritage, while at the same time showing you your potential impact on the future.
Archivist and historian Angela L. Todd (AngelaLTodd.com) will walk you through why and how to start a family archive:
How your family history makes up part of national and world history.
Preservation: easy strategies to radically increase the life of your paper collection.
Three key steps to backing up your digital collection.
Where to donate your archive.
Angela will offer you a downloadable guide to what to save in your archival collection …and what NOT to!
You'll leave this portion of the workshop knowing: the importance of family collections to history, what goes in an archive collection, how to preserve your original paper materials, and best practices for backing up your digital history.
You'll be surprised and comforted to see that you truly do have a place in history, and that your path is important.
Don't miss this amazing opportunity to experience genealogy (collected by institutions) and archives (collected by you) together so that you can have a clear idea of how your life and stories can bring your family history alive and serve as a window for present and future generations.
Look back with understanding of the path that brought you here, pride at all that has been done or endured and relief at knowing your legacy is gathered and placed in a safe place. You may even feel a new gratitude that we have experience to draw from.
No matter what your story is… knowing and preserving YOUR story can bring meaning to your life. We will help you.
There is a true emotional connection to knowing your story. Whether it confirms what you have heard or opens up a whole new world to you …you will feel different when you discover your roots.
Join this dynamic duo to learn about genealogy and archives.
SEATING WILL BE LIMITED so grab your spot now!