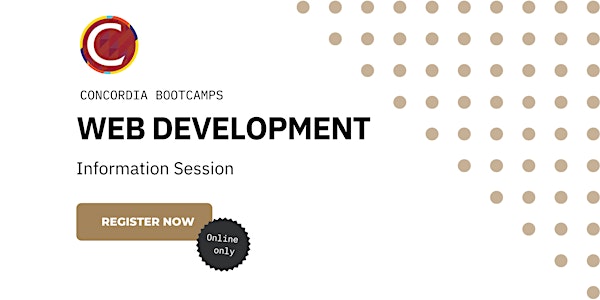 Multiple dates
Build Your Future: Concordia's Web Development Bootcamp Info Session
Join us to discover how our web development bootcamp can help you take the first step towards a rewarding career in tech.
Date and time
March 20 · 1pm - April 27 · 10am PDT
About this event
Our Web Development Bootcamp has helped hundreds of our grads learn in-demand skills and get hired at companies like Deloitte, Desjardins, Shopify and more.
If you have been wanting to launch a career in tech, or widen your skillset within the industry, we can help you make it happen, but you have got to start somewhere. This online info session is the perfect first step.
Here is what you will learn:
How to break into tech
What Concordia Bootcamps is exactly
Our full-time + part-time offerings in EN + FR!
Who makes a good fit
How the admissions process works
What financing options are available to you
What a day in the life of a bootcamp student is like
How our 1-on-1 Career Services program helps you get hired
Where our alumni work now
Followed by a Q&A session where you can ask an admissions advisor all your questions!
How to access the event:
We will be using Zoom Webinar. Once you register, you will have access to a link that will allow you to join the livestream. This event is completely online, and requires a strong internet connection.
About the organizer
Bridging the gap between education and employability, Concordia Bootcamps prepares you for an exciting career in tech. Learn to create your own projects from scratch through our Web Development and Data Science bootcamps. They're designed by industry experts and taught by dedicated, experienced instructors and TAs. We offer Full-Time and Part-Time schedules available in English or French! Plus, you'll receive 1-on-1 mentorship from our Career Services program once you've completed the program.
--
Comblant le fossé entre l'éducation et l'employabilité, Concordia Bootcamps vous préparent à une carrière passionnante dans le domaine des technologies. Apprenez à créer vos propres projets de A à Z grâce à nos bootcamps en développement web et en science des données. Ils sont conçus par des experts de l'industrie et enseignés par des instructeurs et des assistants techniques dévoués et expérimentés. Nous offrons des horaires à temps plein et à temps partiel disponibles en anglais ou en français! De plus, une fois le programme terminé, vous recevrez du mentorat individuel et personnalisé par notre équipe de services carrière.