Build your first Mobile App with HTML5, jQuery, PhoneGap & APIs — SFv2!

Wednesday, June 19, 2013 at 9:00 AM

-

Sunday, June 23, 2013 at 9:00 PM (PDT)
Who's Going

Loading your connections...
3 of your friends are going.
Share it to get more people on board!
Share

Sara Haughty
San Francisco, California

Luke Picard
London, United Kingdom

Rick Vespucio
Florence, Italy
Event Details
A free 1-day training course + optional advanced class & contest to learn everything you need to know to build your first mobile app with HTML5, PhoneGap, jQuery and an API Backend!
As taken by over a thousand people in San Francisco, Austin, Amsterdam, Philadelphia, Denver, Detroit, Houston, San Jose, Atlanta and Los Angeles!
The classes are completely free (and all the software & services we'll be using are too — most of them are even open-source)

Join us to learn how to create mobile apps for iOS, Android, Windows Phone or mobile browsers! We will review the important mobile features of standards like HTML5 and CSS. You will learn how to use a mobile UI framework (jQuery Mobile), how to package your app with a native bridge (PhoneGap) and how to add app features with a Backend-as-a-Service (open-source Usergrid). By the end of the workshop, we will have built a fully-featured app, ready for release on the app store, without having written a single line of server-side code!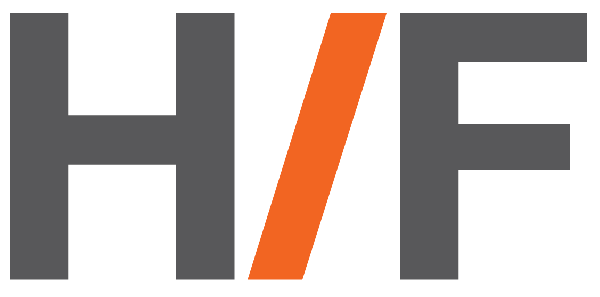 These sessions are organized with Hackers & Founders — the largest community of early tech founders in Silicon Valley & SF. Learn more about their incubator or join their next meetup.
Schedule for the Week
(Schedule for each individual day is below)
Wednesday: 1-day, Hands-on Mobile 101 Class — at Hacker Dojo in San Jose (599 Fairchild Dr., Mountain View, CA)
Thursday: 1-day,Hands-on Mobile 101 Class — at SFSU Downtown in San Francisco (835 Market St, Room 675/676, San Francisco, CA)
Friday: 1-day, Hands-on Mobile 101 Class — at SFSU Downtown in San Francisco (835 Market St, Room 675/676, San Francisco, CA)
Saturday & Sunday: 2-day Hands-on Advanced Class, Lab Hours and Contest — at WeWork Labs San Francisco (156 2nd Street, San Francisco, CA)
Program for Mobile 101 Class
8:30am: Doors open — registration and coffee 
9am–noon: Build your first mobile app with HTML5 and a Backend-as-a-Service
Intro HTML5 and Mobile Apps
Building your static app (jQuery Mobile)
Load data dynamically into your app (Usergrid)
Lunch (provided by Apigee)
1pm–2pm: Make your code run as a native app on your Android or iOS device (PhoneGap)
2–4pm: Geolocation, Identity management, Security We continue building our app from the morning and extend it in the direction of your choice!
Adding user accounts to your mobile app to control access & permissions, or add sharing features. Turn your app from the morning into an employee directory, reporting dashboard, social app or simple CRM.
Using a hardware feature like Geolocation: how to take your simple app from the morning and turn it into a store locator, a yelp-like app, a delivery management app, etc.
4pm: Q&A and drinkup! (Beers provided by Apigee.)
Program for Advanced Class & Contest
The aim of this class is to give you plenty of time over 2 days to build your own app. We will have several Apigee trainers available to help and several structured classes to explore advanced topics. We will hold a friendly contest to help you stay motivated and attribute prizes at the end of the weekend: $2,000 for the best overall app built, and $2,000 for the team that demonstrates the biggest progress since they took the intro class :)
Saturday 9am: Doors open — registration and coffee
Saturday 10am–noon: 4 of these Advanced topics in App Development (30 minutes each) — by popular vote
Offline mode — so people can use your app when they have no internet access
Analyzing usage, traffic and bugs
Making live changes to your app once it has been distributed through the app store
Integrating files & rich media (photo, video, audio, PDFs, etc.)
Targeting Users & Driving Engagement with Push Notifications
Lists with Infinite Scroll
In-app sharing, reporting & privacy controls with Groups and Activities
Playlists, Reading lists, Bids and other queue-based features with Queues & Lists
Dealing with external APIs (Facebook, Foursquare, etc.)
Counting objects & events
Packaging your app & submitting it to the app store
Capturing photos and videos with the camera
Debugging Strategies for PhoneGap
Securing your application & data access
If you want to see another topic covered send an email to tim.a@apigee.com
Lunch (provided by Apigee)
Saturday 1pm–2pm: 2 more Advanced topics (we can cover more in breakout workshops as needed)
Saturday 2pm—10pm: find team members (if needed) and pitch, start work on your own app. We'll stay open late and have plenty of trainers there to answer questions. We can additional advanced topics in breakout sessions as needed.
Sunday 9am–4pm: work on your own app + breakout workshops on advanced topics as needed. Lunch provided by Apigee!
Sunday 4pm–5pm: pitches, prizes and pitchers (of beers). We'll let you show off your app to others (if you want) and everybody will vote on best overall app and the team that demonstrated the most progress since they took the 101 class. We'll give $2,000 in Amex gift certificates to each!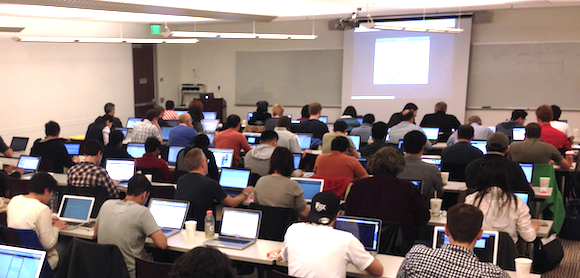 Pre-Requisites
About the Instructor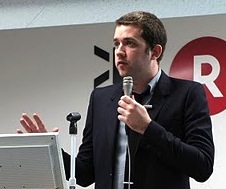 The sessions will be lead by Tim Anglade, public speaker, former Computer Science lecturer, and Head of Developer Programs at Apigee. Tim has spoken about app development around the world, from OSCON to Oredev & GoGaRuco, and met with mobile app developers from Silicon Valley to Seoul. He most recently gave this training in San Francisco, San Jose, Amsterdam, Los Angeles, Austin and Denver. You can find him on Twitter as @timanglade.
Here's what previous attendees have to say…
"Great class … Opened up a new world for me." —@wren_jon
"Tim was intelligent, patient, and engaging. His material was well-prepped and clearly had gone through many iterations. Highly recommended!" —Jessica
"Awesome mobile apps training if you're looking to get a jump start with jQuery mobile and phonegap!" —@nmakiya
"Great HTML5 class today in San Fran with Tim Anglade Definitely looking forward to the advanced class next month!"  —@JeffCGoss
"Shout out to Apigee for putting on a great intro to html5 mobile apps today" —@paulruescher
"Great workshop today! Left with new knowledge, great tips, a new book & a couple cold ones.......ALL FOR FREE!" —@terrance_unce
"Thanks for the great day teaching us how to build mobile apps" —@MattSobieray
"Many thanks to Tim Anglade for the awesome training on JQuery Mobile and PhoneGap. I particularly liked the RESTful API design of Usergrid" —@Luay_ca
"Thanks to you for the Mobile App, HTML5, PhoneGap awesomeness" —@adaptivepattern
"Tim Anglade did a great job. Apigee looks really cool." —@barela14
"He moved at a good pace. Packed a lot in. Was good." —@newmanw10
"Thanks to Tim for a fun day of html5 mobile apps with BaaS" —@bentuttle1
And more… "Excellent presentation and group! A+" — "Awesome class! The materials and instruction were just right... Perfectl actually! Thanks Tim!" "I learned new stuff. Training was interactive. The instructor was really helpful" — "It was hands-on. We had the chance to actually build our application" — "It gave a clear overview of technologies useful to build mobile apps." — "The material was great. The presenter knew his stuff and was interested in seeing his students succeed." — "Building smartphone apps was a mystery until I attended this one." — "I liked that individuals of diverse backgrounds and skill sets were all able to attend and learn something. Can't think of anything I disliked." — "Not a sales pitch, very practical info, immediately useful" — "I am getting smarter thanks to you and Apigee for doing events like this." — "Some of the best training I've had - paid or not. Thanks for putting this on."

For your Boss
You're sold? Need to convince your boss? Well, just tell him about all the things you'll get to learn in just one day!
If you're a web designer, you will learn how to design interfaces for mobile websites and mobile apps quickly, and even how to implement them on your own into working prototypes, allowing your to tackle your company's mobile projects this year
If you're a front-end engineer, you will learn how to build mobile applications that look & feel like native apps, using the tools you're already proficient with: HTML, CSS and JavaScript/jQuery
If you're a native app developer, you will learn another way to build mobile apps, that allows your company to quickly launch projects for multiple platforms (iOS, Android, Windows Phone, BlackBerry, etc.) using the same codebase!
If you're already an HTML5 or advanced app developer, you will learn how to use a Backend-as-a-service to quickly prototype, deploy and efficiently scale your company's mobile apps without needing a backend team to keep it running.
If you're a backend developer, you will learn everything you need to know about the constraints of developing & launching mobile apps, what it means for backend architectures, and how large companies with tens of thousands of employees and millions of users manager their data backends for mobile apps
In just one day, you will learn everything you need to build real apps on your own. Past example includes: store locator, employee directory, Yelp-like app, mobile intranet, HR applicant tracker, lunch ordering system, conference app, room reservation system, and many more! Spend one day in this training and you'll have the tools to tackle any mobile project your boss or customer throws at you.
When & Where

Several Venues around the Bay Area

San Francisco, CA


Wednesday, June 19, 2013 at 9:00 AM

-

Sunday, June 23, 2013 at 9:00 PM (PDT)
Add to my calendar
Organizer
Apigee + Hackers / Founders
Apigee makes it easy for developers to build apps, troubleshoot & update their code directly on mobile devices and scale their APIs. Learn more at http://developers.apigee.com/
Hackers / Founders is the largest community of early tech founders in Silicon Valley (that includes SF). We run classes under Hackers / Founders University. We do political advocacy for founder immigration reform, healthcare for founders, free internet. We host networking events and meetups in Silicon Valley, San Francisco, Berkeley and San Jose. Learn more at http://www.meetup.com/Hackers-and-Founders/
Build your first Mobile App with HTML5, jQuery, PhoneGap & APIs — SFv2!