Description
WHAT IS A 'TRAINER / COACH-PRENEUR'?
Answer: One who builds a business around his knowledge expertise through education / training.
---
Whether you are currently, or aspire to become, a coach / consultant / trainer / speaker, you need to know how to build a BUSINESS around it! Otherwise, you will just be spending your talent helping others build their businesses. Or worse, suffer from talent-leakage through freelance work that leads you nowhere!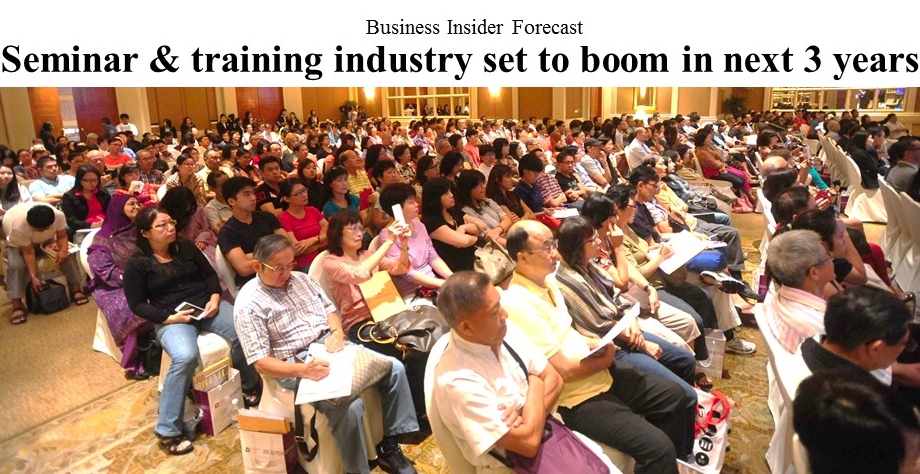 SINGAPORE BECOMING A 'KNOWLEDGE' BUSINESS GOLDMINE!
With our government's instituitionalizing of Skills-upgrading & Lifelong Learning, never before in Singapore's history have we experienced such an EDUCATIONAL EXPLOSION! We are headed towards a market boom in the next 5yrs in the training, teaching, & speaking industry! This is literally a sitting GOLDMINE! Are you CAPITALIZING on it?
---


SEMINAR SPEAKER: GLENN LIM
Glenn Lim is a Breakthrough Performance Expert & Business Strategist, helping individuals and organisations fulfil their potential. As a professional speaker & trainer, he has spoken regionally in SE Asia and trained over 150,000 professionals since 2007. He serves as consultant to corporates, government agencies, & chairs various non-profits & national committees.
In his early days, Glenn started out with just a passion to inspire people with his story. He had no platform, no resources, and doubted if anyone would listen to him, much less pay to learn from him! Through hard work and the help of mentors, he honed his public speaking skills, learnt to run a training business, and even single-handedly made a 6-digit turnover within 10mths through coaching & speaking contracts! His passion for motivating people has led him to coach others to fulfil their passion in the knowledge-economy. He has sinced developed training programs to enable people to build their own lucrative training/ coaching businesses!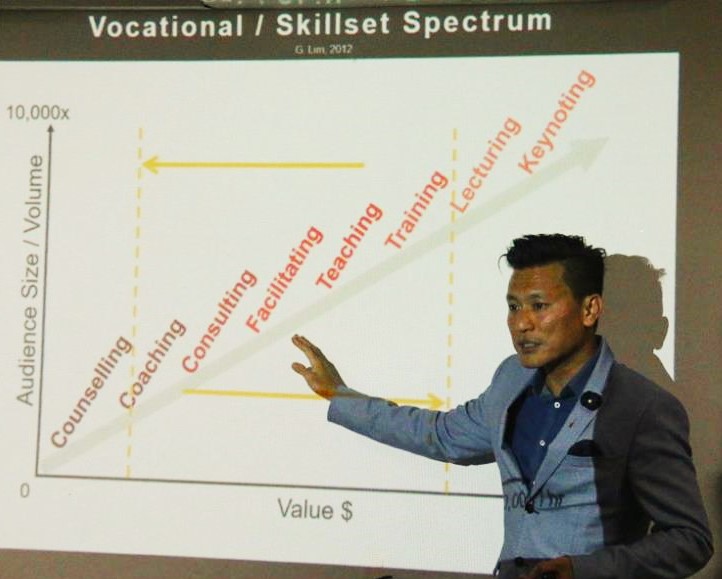 ---
HOW MUCH CAN YOU EARN AS A TRAINER / SPEAKER / COACH?
The range is wide. Typically a professional trainer commands a going rate of $3.5k - $5k for a full day workshop. A typical 1-hr keynote is in the $7k - 10k range (The popular speakers easily command $15k per keynote). Everything's really quite relative, and it depends largely on where u want to take your career to...
---
LET US JUMPSTART YOUR CAREER!
Enough of bumping your way around in the dark & making the costly time-wasting mistakes! Let us JUMPSTART you to discover your niche in this competitive training industry. Learn how to quickly develop your curriculum, hone your subject matter, maximize your visibility, enlarge your sphere of speaking opportunities to fast-track your training business development!
At this workshop, u will learn:
✔ Trends in our current Information Age
✔ Plotting your Skillset Spectrum
✔ 3 Knowledge-based biz models
✔ 3 Critical Jumpstart Factors
✔ ...and other secrets of monetizing your training career!
---
WHO SHOULD ATTEND?
This workshop is for:
- Individuals who want to explore a new & profitable career switch!
- Those who want to monetize their Coaching / Trg passion!
- People who want to inspire others through education!
- Existing Coaches / Educators / Practitioners who are stuck & want to move beyond their $5k - $6k/mth ceiling!
---