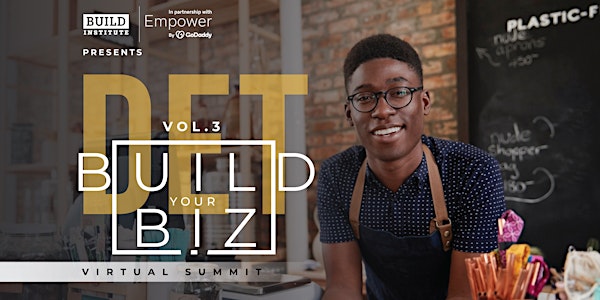 Build Your Biz Summit Vol 3 - Powered by Build Institute + GoDaddy
Virtual, interactive summit hosted by Build Institute + GoDaddy to help small businesses grow and scale.
About this event
The Build Your Biz Summit Vol. 3, sponsored by Build Institute and GoDaddy, is an interactive experience full of guest speakers, panels and tactical GoDaddy workshops that enable microbusinesses to grow and scale. You'll gain insight into some local inspiring entrepreneurial journeys of local food economy entrepreneurs. Additionally, you will have the opportunity to participate in some live workshops spanning topics such as branding, marketing and digital security.
We're excited to convene local thought leaders and pivotal playmakers in the small business ecosystem through a series of summits that will continue to provide training, tools and community to help small businesses. Stay connected - there's more to come!
-------------------------------------------------------------
We are also accepting applications for the next cohort of our Empower by GoDaddy Program. If interested, you may apply here!
Build Institute serves as the key Empower by GoDaddy partner in Detroit for the Project Revival program. Build Institute has developed an internationally sought model for inclusive, equitable microentrepreneur development. Our grassroots and community-focused value approach has driven the organization since its inception and continues to drive our growth today. To date, we have graduated over 2150+ aspiring and experienced microentrepreneurs. Come join us, Start With Build!