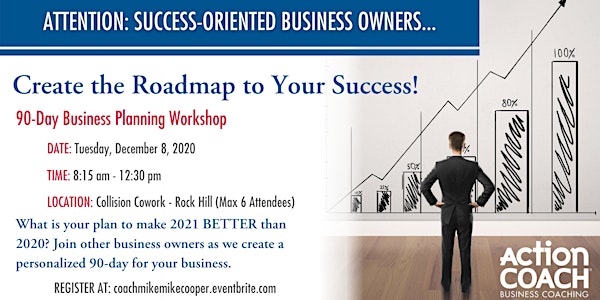 "Build Your 2021 Business Action Plan" Live Workshop
What is your plan to make 2021 BETTER than 2020?
When and where
Location
Collision Cowork 116 East Main Street #Suite 201 Rock Hill, SC 29730
About this event
COVID 19 is going to continue to impact how we live and do business, well into 2021. Below are just a few questions to consider going into the new year.
Are you prepared to take advantage of new and emerging market opportunities in 2021? Have you created a written plan, with some basic priorities and action steps?
Do you have an actionable Marketing Plan that is ready to implement in the event of another wave of shutdowns? And do you have a Financial Plan to support it?
What about your team? Do you have the people you need to excel in the COVID era? Would you like to learn a NEW way to recruit?
On Tuesday, December 8th, from 8:15 AM to 12:30 PM, you have a unique opportunity to build your Marketing and Business Action Plan to excel in 2021, guided by a top 10 ActionCOACH.
GrowthCLUB is a Quarterly Workshop where business owners are guided through a systematic review of their business to identify their greatest opportunities for improvement.
• DURING the December 8th edition of GrowthCLUB Workshop, we will walk through a systematic review of your business AND invest 70% of our time on ensuring your Value Proposition, Target Market, Lead Generation & Conversion, and Profit Strategies are clear and actionable, for an outstanding, 2021.
Why join us – instead of just doing this on your own? Most business owners will not give themselves "permission" to invest a half-day to work ON their business unless it is off-site. This is your chance to invest a half-day ON your business, with other business owners utilizing a proven, systematic approach.
Additionally, it is common that OTHER business owners will have ideas that can help YOU.
What to Expect at GrowthCLUB: REAL, ACTIONABLE, PLANS!
An objective review of where your business is: strengths and vulnerabilities.
You will identify the top 5-10 actions you can begin implementing now, to drive your business to the next level of performance.
Each action item will include the first steps, milestones, resources, timelines, and a plan to overcome predicted resistance.
Out of the list of 5-10 Action Items, you will choose 3 to implement over the next 3 months.
A complimentary follow-up meeting with Coach Mike, to review your Action Plan and make recommendations for improvement.
AGENDA:
Complete a pre-workshop survey to get the MOST out of your planning time.
8:15 am to 8:30 am – Network and introductions to other business owners.
8:30 am to 10 am - DESTINATION: What are your goals for 2021? And what are your current strengths and weaknesses in attaining those goals?
10 am-10:15 am Break
10:15 am to 11:45 - Build Your Marketing and Financial Plan to Achieve your Goals in 2021
11:45 am to 12:30 pm - Action items, plan reviews, and next steps!
TWO BONUSES:
Two for One - For a limited time, each registration is good for 2 people… perfect for a business owner and their assistant or GM. If you go this route, please register the owner online and let us know the other attendee via email (mikecooper@actioncoach.com).
Complimentary Review - This quarter, your GrowthCLUB tuition includes a complimentary one to one follow-up review of your plan with Coach Mike to ensure you have a workable plan to drive key results.
We look forward to seeing you on Tuesday, December 8th, from 8:15 AM to 12:30 PM!