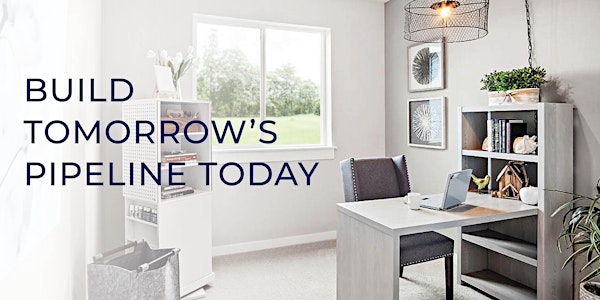 Build Tomorrow's Pipeline Today, Albuquerque, NM!
Register today to learn how the DHI Mortgage Home Buyers Club can prepare your buyers for successful homeownership!
About this event
Did you know that unhealthy credit doesn't always mean a buyer won't qualify for a mortgage? With the DHI Mortgage Home Buyers Club®* and a better understanding of credit, your customers could be on their way to becoming homeowners.
Join D.R. Horton and DHI Mortgage for an informative seminar to learn more about credit, the tools available to you, and how these tools can unlock the door to more transactions.
-WHEN-
Thursday, October 20th, 10:15 am - 11:15 am MDT
This is a complimentary event!
Please RSVP by October 19th at 10 am to reserve your spot and to receive the VIRTUAL event link!
Liju James
Credit Consultant, DHI Mortgage Home Buyers Club
Cell: 832-592-3876
LJames@dhimortgage.com

Financing offered by DHI Mortgage Company, Limited Partnership.(DHIM). Branch NMLS #198570. 8440 Wyoming Blvd. NE., Suite A. Albuquerque, NM 87113. Company NMLS #14622. DHIM is an affiliate of D.R. Horton. For more information about DHIM and its licensing please visit www.dhimortgage.com/affiliate/. Provided for informational purposes only. This is not a commitment to lend. Not all borrowers will qualify. *The DHI Mortgage Home Buyers Club does not guarantee to raise the credit score or guarantee loan approval. Credit education offered by the DHI Mortgage Home Buyers Club does not assure participants that they will qualify for, or successfully obtain, a home mortgage loan. Participants are not required to finance their home purchase through DHIM or to purchase a home from DHIM's affiliated builder, D.R. Horton, to enroll in the DHI Mortgage Home Buyers Club. Participants must complete a HUD approved homebuyer's education course at their own cost as a prerequisite to participation in the DHI Mortgage Home Buyers Club. See your DHI Mortgage Home Buyers Club Credit Consultant for full details. Equal Housing Opportunity. HUD = U.S. Department of Housing and Urban Development.
REV: 07/18/22 | EXP: 10/20/22