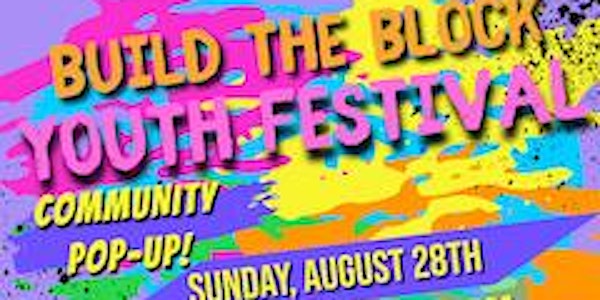 Build The Block Youth Festival & Community Pop-UP
A new take on "Back to School" events! Support Youth & Local Businesses & Food Trucks at this Free Family Festival. Shop, Play, Discover
When and where
Location
Janaf Office Building -Parking- This is the Back of Shopping Center 5900 East Virginia Beach Boulevard Ste 301 Norfolk, VA 23502
About this event
Build The Block Youth Festival & Community Pop-Up is a fresh perspective on traditional "Back to School" Events. Hampton Roads Youth Entrepreneurs & Inventors will wow you with their products while earning their own money.
Youth & Inventor Vendor tables are Free! This is event is Free & Open to the Public.
Walker One Property Group LLC, a residential real estate firm & community co-op along with KS Productions INC, a media marketing & production company, has partnered with local and national organizations to support youth businesses ages 4-18. Our collective goal is to encourage youth to embrace their imagination, leadership and talents early to achieve their personal goals both now & in the future leading to a foundation of wealth creation as early as possible.
This event will include:
Wealth Creation Break out sessions including : youth & family finance principles, real estate investment, fashion, journalism, marketing & media, Stop The Violence & other empowering surprises.
Youth Speakers
Youth performers
Kid Play Zone
Arts & Crafts
Adult and non profit vendor spaces are available but limited. For all vendor inquiries please email walkeronepropertygrp@gmail.com with the subject line Build The Block or Download app
Vendor Application can be found here: Build The Block Vendor Application
What vendors are great for this event?
Toys, children's products, martial arts, dance studios, wrapped baked goods, girl scouts, non profits, clothing, accessories, home improvement, tutors, summer programs, daycares, nurseries, schools, crafts, authors, realtors, furniture, event planners, sports groups, theme or fun parks, water products, music stores & teachers, homeschool organizations, museums, healthcare, dental, chiropractic, laser surgery, weight loss, eyeglasses, wellness, authors, health & beauty, employers seeking employees, and so much more.
--
Presented by Walker One Property Group, LLC & KS Productions INC.
Sponsored By "Don't Sweat It, Rent It"