Build Long Term Wealth With Real Estate
Description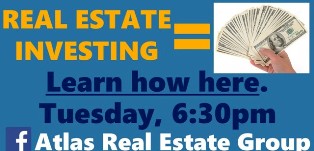 Real estate investing = affording to send your child to college. Real estate investing = hitting your retirement goals. Real estate investing = ____________. You fill in the blank!

Whether you are a new investor looking to get your start or a seasoned investor looking to either grow or diversify your portfolio, real estate investment expert Mike Hills will provide value as he shares his success story and explains how you can get there too.

To learn more about REIH, visit http://www.realatlas.com/invest/real-estate-investment-hour/.

Did we mention it's a FREE event? Food and beverages will be provided. Free parking is located onsite.