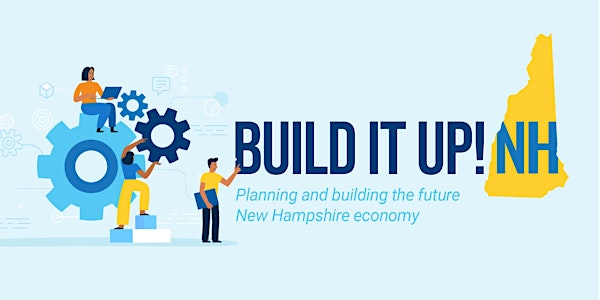 Build It Up! NH
Start planning and building the future New Hampshire economy that works outside the COVID nightmare
When and where
Location
Murphy's Taproom & Carriage House 393 New Hampshire 101 Bedford, NH 03110
Refund Policy
Contact the organizer to request a refund.
Eventbrite's fee is nonrefundable.
About this event
Come together with professionals in various fields with various areas of expertise to participate in working sessions where entrepreneurs and out-of -the-box thinkers will brainstorm and walk away with tangible plans to begin building the future.
Event will begin with a light buffet and networking, leading into short introductory remarks, followed by the meat and potatoes: The breakout sessions. Each attendee will attend three 30-minute moderated, topic-based breakouts. To wrap up the event, each topic moderator will give a brief overview of initiatives discussed and plans made at each breakout, followed by time for networking post-brainstorm.
We hope all attendees will walk away from this event invigorated and connected to other patriots, ready to dovetail into concrete action to build the future New Hampshire freedom economy.
Breakout Topics
At registration, you will choose the three breakout topics you would prefer to attend.
Education
How will education work in a decentralized freedom economy? How can we retain time-tested good practices, leapfrog the moribund factory school systems, and restore parental primacy? Come brainstorm tactics and strategies for alternative educational pathways, including home-schooling, parochial or private schooling, micro schooling, online learning and Massive Open Online Courses (MOOCs), and vocational and practical learning, including apprenticeships. Also discuss educational credentialing that employers will accept and more!
Health Care & Dentistry
Our health freedom and bodily autonomy has become the centerpiece of discussion in today's ongoing COVID-19 debate, as health care has been monopolized by authoritarians who now impose treatments and paradigms that may not be in patients' best interest and leave little to no room for alternative treatment options. Additionally, patient-driven care advocates are increasingly locked out of the system due to their moral or scientific objections to masking and vaccinations. Doctors and nurses and other health professionals are facing the prospect of losing their careers over their own health choices. What can be done? It's time to discuss the creation of alternative health systems and health-freedom clinics that can handle emergency or urgent care. We also need to address the licensing and oversight exposure of going down this path to avoid the prospect of black-market medicine. What role do alternative practitioners have to play, and how do we publicize networks that are health-freedom friendly? Are there alternative funding options to traditional health insurance? We'll explore the future of health care together.
Legal Concerns & Governance
The justice system is becoming more costly and inaccessible; selective prosecutions and politically controlled state attorneys make it seem impossible to redress our grievances or bring bad actors within state government to justice. The Legislature is becoming less meaningful, as executive officials ignore or create their own rules and literally demonize the men and women we elect to create constitutional laws that protect the rights of all. Can we band together to work for just resolution of disputes and redress of grievances, and improve the freedom-mindedness and lawful authority of the Legislature? Can we uphold justice and prevent our state from becoming like Australia? How can we better govern our neighborhoods and towns to ensure a level-playing field for everyone? Bring your thinking caps to brainstorm new ideas for restoring a functional and constitutional government that elevates individual rights to their primacy.
Finance & Trade
As inflation of the dollar, tax increases and market fluctuations herald an unstable future for American finances, how can we earn and save capital, sell our goods and services, and buy what we need with privacy and security? Authoritarians are moving toward central bank digital currencies to replace the dollar and cement complete surveillance and control over household finances with ties into a social credit system that rewards obedience and punishes freedom, all while outlawing alternative crypto-currencies. What can be done? Can we create financial institutions overseen by state rather than federal regulators? Is there a future for banks and credit unions, crypto-currencies, gold, silver, and other alternative currencies? Are there other financial tools or assets to consider? When and how does barter and trade come into play? How will we buy and sell when vaccine passports are required by most vendors?
Communications, Privacy & Information Security
Will mobile telephony, Internet communications, and snail mail always be an option? Is HAM radio worth considering? What about runners or homing pigeons? Seriously! If we do maintain modern communications, will we be able to use it with the same freedom? Who hasn't heard, "If you have nothing to hide, what are you worried about?" If you believe your thoughts and communications are your business and no-one else's, and you are interested in ideas to establish information privacy and security, come to this session! We'll discuss communications options; good and bad practices and risks for our privacy and information security; securing local and cloud storage; computer and device security; VPNs and other communications security; alternatives to internet and mobile; protecting yourself from fraud and identity theft, and more.
News & Social Media
Today we're up against "fake news" propaganda artists, BigTech censorship, and misinformation psych-op campaigns as we try to sift our way through the noise to establish what is true. We need a new way to create, disseminate and consume real news. Are there alternatives to the prominent corporate and social media sources that we've come to rely on? Let's share the news sites, video libraries, and chat and forum tools we've discovered to be useful for spreading accurate information and accommodating free speech. Many have either fled or been booted from Big Tech platforms. What other places can we converge to share information critical to our way of life? Should we consider options for developing pamphlets, newsletters or other means to ensure we can beat the information-control agenda? Hear Ye, Hear Ye, join our conversation to spread the news.
Community Food & Water Security
As "transitory" inflation gets real on supermarket shelves and national and global food production and transportation is disrupted, how can people feed their families with safe, clean, and cost-effective food? In this session, let's develop strategies for pre-buying and membership clubs, building up a stocked pantry that incorporates home inventory basics, joining local co-ops, and patronizing local farmers' markets. What relationships and systems can we develop to make sure we all have the healthy food and clean water that we need? How do we grow and/or raise enough of our own food to trade for items that we're short on, capture rainwater, install hand-pump wells, and purify natural sources of water? This session is about how the community can come together to develop and trade the essentials that we need for daily life.
Alternative Energy Production & Waste Management
What if one day the lights shut off and don't come back on? What if the power grid is permanently disabled, or local power plants can't get the raw materials needed to continue operation? What happens if we can't import oil, gasoline or other needed energy resources? Will solar and wind powered generators provide the energy we need to get by? Is fuel storage an option while the price is still relatively low? Are there alternative resources in New Hampshire we could use to develop energy production capability? In the worst-case scenarios, garbage and human waste buildup could also become an issue. What are the best practices to prevent disease and squalor? Are there ways we could help each other through the dumps?
Making the Most of Your Living Situation (Becoming More Self-Sufficient)
Whether you live on a farm, a single-family home on a cul de sac or in the city, a multi-unit apartment building, or a trailer out in the woods, how will you support your family's welfare when you're on your own? No matter where you live, we can all make our home more productive to survive times of difficulty. Will backyard chickens and a vegetable garden keep you alive when the shelves are bare? Let's discuss hunting, foraging, back-yard agriculture, trade, and safe food preservation. Will shared community space and private outreach be used to help those who are less prepared get back on their feet? What are your solutions to a housing crisis or land-use restrictions? Come share with others who are new to these ideas.
Career Re-Building, Entrepreneurship & Manufacturing/Production
Many people are facing job loss and career-ending decisions as vaccination and masking mandates loom large in corporate America, and despite the unfairness and utter tyranny of the current situation, we have to come up with another path to help support principled objectors. Even before COVID-19, a "gig economy" was on the rise, and many people turned toward a "side hustle" to help make ends meet. Can we develop new businesses and services that will support folks who have lost their careers and need a new one? Can we empower these folks with the courage to go out on their own? Can we develop a vibrant, local economy that builds and produces the goods we can no longer import from overseas, and what raw materials can we process to build a self-sufficient economy? Come join us in the shark tank to dream up the next American dream.
Security & Defense
Who believes our society is getting more stable and safe? A security mindset and defensive practices are more important than ever. Let's talk about keeping ourselves, our loved ones, and our homes and property safe and secure, and what to do "if and when." We'll discuss personal defense means; training; engaging with law enforcement; protecting our families; protecting our property; surveillance; operational security, attitude, and situational awareness; and what kind of gear makes sense to hunker down, evacuate—"bug out"—, or defend our properties, neighborhoods, communities, or state from threats to our way of life.
Transport, Travel & Relocation
Travel and relocation have been one of the luxuries of American life, and no family trip is complete without passing hundreds of trucks bringing goods across the land. Will vaccine passports, fuel costs and availability, government restrictions, and the loss of human capital limit our access to the global economy we're used to? Will we even trade across state lines or get on a plane? Will we be able to find a new living situation, or will that also be restricted? Will populations be forced into urban centers? What can we do to develop free systems for transporting goods, services and people where they need to go? Are there new travel and transport options we can dream up? We can and will create alternatives that serve us better, but first we need to chat.