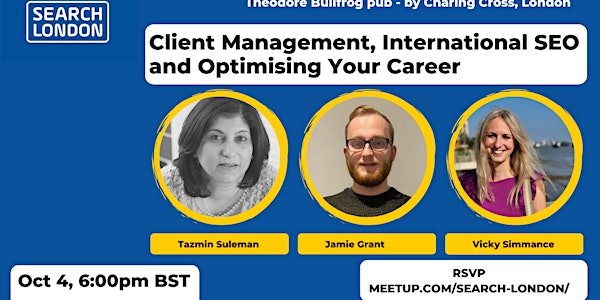 Build Great Client Relationships, Optimise Your Career & International SEO
Learn about managing and improving client relationships, growing and developing your career and executing and international seo strategy.
When and where
Location
Theodore Bullfrog 26 John Adam St London WC2N 6HL United Kingdom
Refund Policy
Contact the organizer to request a refund.
Eventbrite's fee is nonrefundable.
About this event
Hello everyone,
After a few months off, we are back with our first meetup of the autumn.
Come to Search London on Tuesday, October 4th at 6:00pm at the Theodore Bullfrog.
Address:
26-30 John Adam Street · London WC2N 6HL
Nearest stations are Charing Cross or Embankment
We have three fantastic speakers talking at the event, Vicky Simmance, Tazmin Suleman and Jamie Grant.
Vicky Simmance
Operational excellence is Vicky's passion! She has worked as an Operations Director in digital marketing since 2017, and is currently the Operations Director for Type A Media. Her experience includes audits, projects & ongoing support, having worked as both a freelancer and full-time in digital agencies. Vicky is also qualified in project management and is a Prince2 Agile practitioner.
Vicky will be speaking about:
Client & stakeholder satisfaction guaranteed… or your money back!
Understanding client & stakeholder satisfaction is key for any digital marketing team to perform well, so it's important we use tools to measure this on an ongoing basis. In this talk you'll hear about how we can gather insightful feedback from clients & stakeholders to help us make meaningful improvements, as well as how monitoring clients & stakeholder's behaviours can help tell us what they REALLY think about the services we provide. Having happier clients & stakeholders leads to business retention & growth, so continually monitoring and improving satisfaction is vital.
Tazmin Suleman
Tazmin is the co-host of The SEO Mindset Podcast, as well as a coach, course creator and public speaker, who helps individuals tap into their full potential and lead fulfilling and happy professional and personal lives.
With a background spanning Development, Data Integrity and SEO, her underlying passion throughout has been helping people develop, be it through management roles or leading Colleague Development initiatives.
Also a MHFA, Tazmin develops workshops to help individuals manage their mental health, with her most recent being helping students manage stress during their recent exams.
Tazmin will be speaking about:
Career (and Life) Optimisation
In this talk, Tazmin will talk about advancing your development and optimising your career. This takes more than knowledge and skills. It takes action.
Tazmin will be sharing tools, tips and strategies that help you take the action needed to progress your career and build a better you, who will then show up in every area of your life. She will be discussing the importance of introspection, how to navigate stepping out of your comfort zone, and the power of recharging to your physical and mental energy.
Jamie Grant
Jamie is a Senior SEO Strategist at London based agency, Kaizen. He spends his time ensuring the agency's clients have a leading SEO strategy in place and also specialises in technical workstreams. Jamie has worked in SEO for over 7 years, having spent the past 4 years specialising in SEO working agency-side.
Jamie will talk about:
7 Key Tips for International SEO
Rolling out an international SEO strategy is one of the most complex tasks in SEO, even for the most experienced of professionals. In this talk, Jamie will break down the key tasks into step by step actions. He will also address some of the most confusing aspects of international optimisation such as hreflang.
To attend the event, please RSVP here and buy your ticket on Eventbrite:
https://www.eventbrite.com/e/building-great-client-relationships-and-developing-your-career-tickets-405592998577
We are looking for a sponsor to help us fund the event.
If you would like to get involved, please contact SEO Jo Blogs on Twitter.