Description
Ever thought about learning to code? Ever wondered what really goes into building a website? Are you interested in exploring a new career or side hustle?
This workshop is for people who want to make a website, but don't know where to start.
All you need is a laptop & the desire to learn how to code. No special software needed.
Do I need to have previous experience?
No previous experience is required. Our workshops are small in order to provide the 1-on-1 attention needed to ensure you succeed.
Who is teaching this workshop?
Learn how to code from a seasoned front-end software engineer with over a decade of experience working for startups and celebrities in Los Angeles.
What are our students saying?
The coding class was so helpful to me! As someone who is literally starting from ground zero, I found the explanations in the basic terminology really critical to making sense of the coding language. I'm excited to venture into building my first website.
- Duke R.

What will I learn?
How to build a website in two parts.
If there is something you want to learn that is not listed below, please get in touch.
PART I (45 min)
Overview of front-end web technologies
Set up tools to build a website
Intro to HTML, CSS and JavaScript
PART II (45 min)
Deeper dive into HTML, CSS and JavaScript
Custom Typography via Google Fonts
Icons via Fontawesome
Integrate social media (Instagram, Twitter, Reverb Nation, etc.)
Royalty free image assets
Chrome Developer Tools
Intro to Twitter Bootstrap
Overview of Bootstrap website components
Leverage Bootstrap examples and components
Paypal : Add a paypal button to sell online (optional)
Free ways to make your website visible to the public (hosting)
Q & A
Hangout after for discussion to get a deeper understanding of any of the topics and learn more about Upstream Coding.
What should I bring to the event?
Laptop & Charger.
How can I contact the organizer with any questions?
events@upstreamcoding.com
What are my parking options for getting to and from the event?
Free on-street parking and paid parking lot (25¢/15min).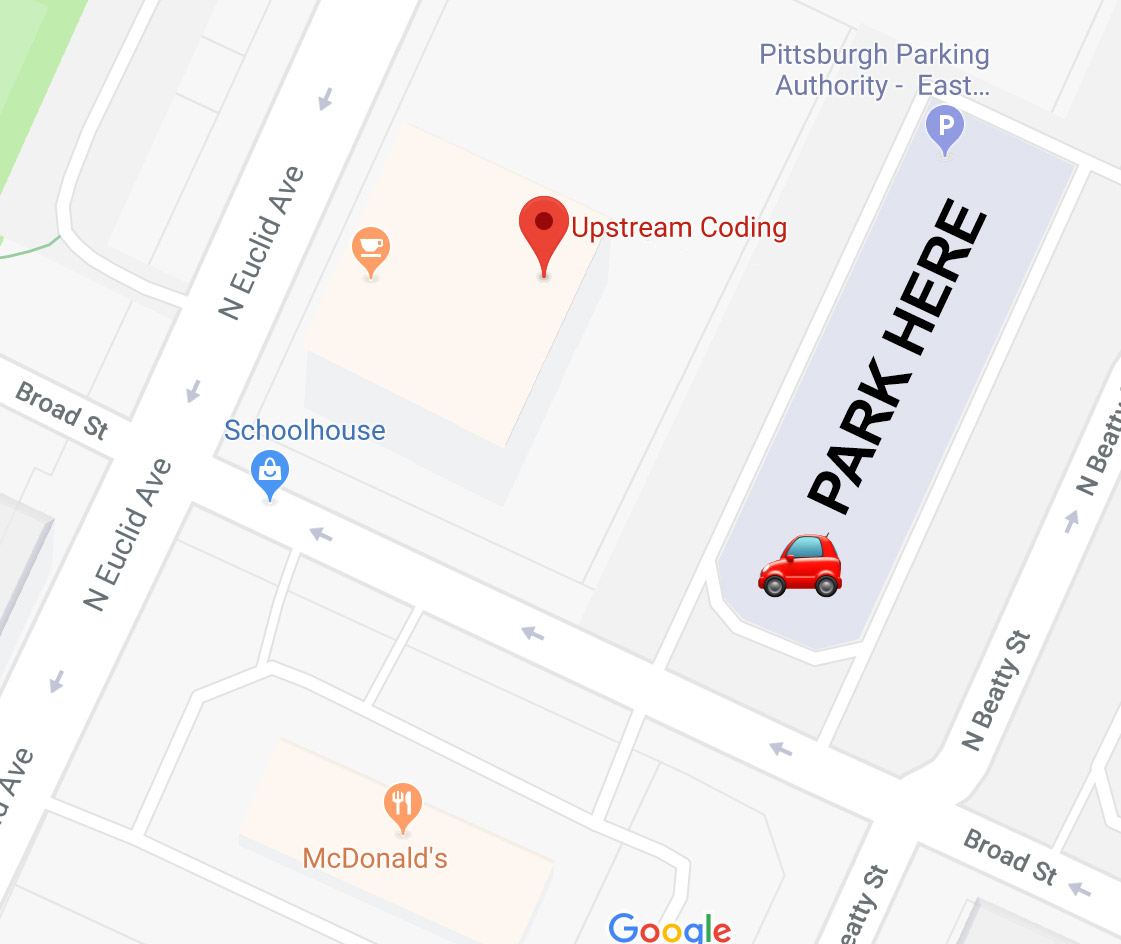 Location
224 N Euclid Ave, Fl. 3
Pittsburgh, PA 15206