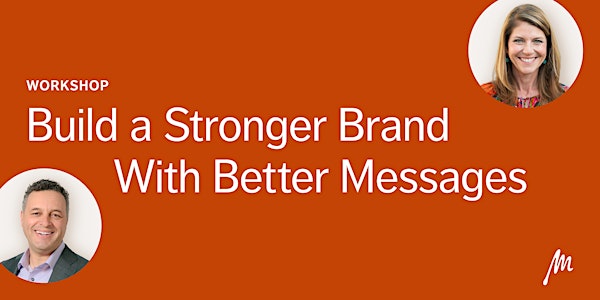 Build a Stronger Brand with Better Messages
Create memorable messaging that everyone can use consistently to strengthen your organization's brand.
About this event
If you and your colleagues know what makes your organization special, but struggle to describe it in a succinct way, it's time to create memorable messaging that everyone can use consistently to strengthen your brand.
Join Mission Minded's Founding Partners Jennie Winton and Zach Hochstadt as they teach our sought-after Minute Message Model™. This four-part messaging framework helps you communicate who your organization is, what it does, and why it matters in a concise, consistent, and compelling way.
When your messages are clear and inviting, you make it easy for your stakeholders to understand and use your message framework with confidence. And the more consistently your messages are shared, the more clear and magnetic your brand becomes.
You'll leave the session with new draft messages and understand how to apply this model immediately for memorable communications that attract more support from more people.
By the end of our workshop, you'll know:
Why many nonprofits, foundations and schools fail to effectively communicate their value
The relationship between your brand and your messages
How to create messages that make an authentic connection with stakeholders
How having clear messages turns your team into confident ambassadors
Mission Minded is celebrating 20 Years!
Your efforts to create memorable messaging that draw more people to your organization is the reason we started Mission Minded. That is why for our 20th anniversary, we're making this, and all our past webinars, free of charge.
We are driven and inspired by the work you do to Amplify the Good in your community and the world.
Stay connected to learn about upcoming webinars and resources to help you and your team achieve mission success!
EVENT TIME AND DATE: Please note that the event will be on Thursday October 13th and will begin at 1 PM Pacific Time / 2 PM Mountain Time / 3 PM Central Time / 4 PM Eastern Time. Your confirmation email settings will default to Mountain Time but the time and time zones of the event will be listed in the custom note of your email.
About the Speakers:
Jennie Winton, Founding Partner & Leadership Coach
Jennie Winton is a 30-year marketing veteran sought for her expertise in branding and positioning nonprofits. Since co-founding Mission Minded in 2002, Jennie has served as a strategic advisor for over 300 nonprofits and has inspired hundreds more as a nationally sought lecturer. With expertise in brand, messaging, and fundraising, Jennie helps senior nonprofit leaders clarify how they talk about their work, leading to greater organizational stability, increased revenues, and an expanded presence. And as a one-on-one coach, she helps values-driven people have greater impact, balance, and happiness at work.
Zach Hochstadt, Founding Partner & Creative Director
Zach Hochstadt co-founded Mission Minded in 2002 to provide nonprofits with the highest level of brand, strategy, design, and digital services. Today, the award-winning agency serves some of the nation's most respected organizations in a broad range of sectors. Zach has particular expertise in brand strategy, messaging, and naming. He leads projects on behalf of clients all fixed making the world more just, equitable and safe.