Description
Libraries are a natural place for book clubs, and librarians have been facilitating book clubs for years. But not all librarians report success with the book clubs they've hosted, and the very idea of the book club keeps evolving, often raising more questions than answers about the best way to proceed. So how can you keep your approach fresh, exciting, and most important—successful—in a saturated landscape? Over three weeks, you'll learn from the experts how to build a better book club, from inception through execution, including how to design the most effective survey, how to facilitate the most productive and enjoyable group dynamic, and how to measure success.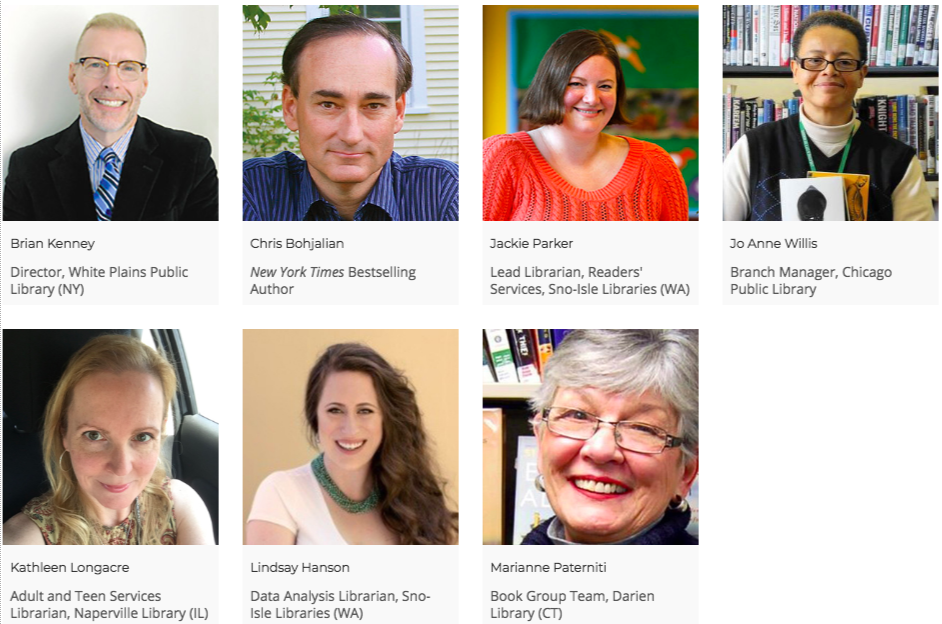 WEEK 1: Thursday, October 25, 2018
Session 1 |
2:00-2:30 PM ET |

Keynote: An Author's Guide to Book Talks, Reading Groups, and More

Join us for a riveting opening session with New York Times bestselling author of 20 books, Chris Bohjalian. Chris will share his insights on how to inspire great conversations about books, what makes an outstanding book talk, and how to create a club that appeals to many.

Speaker:
Chris Bohjalian, New York Times Bestselling Author
Session 2 |
2:30-3:00 PM ET |

Setting Your Book Club Up for Success: Questions, Possibilities, and Pitfalls

In this foundational session, you'll learn how to plan for a successful, sustainable book club. Hear from a longtime book club expert as she shares her deep knowledge of what works and what doesn't, the questions you should consider as you set out, the diverse approaches you can take to your club, and pitfalls to watch out for along the way.

Speaker:

Jackie Parker, Lead Librarian, Readers' Services, Sno-Isle Libraries (WA)
Session 3 |
3:15-3:30 PM ET |

Designing a Survey to Get Your Book Club Off on the Right Foot

Common sense might imply that a successful book club hinges on choosing the right kind of club for your community, but with so many options out there, how do you know what's best? In this session, we'll cover how you can find out what your audience wants, what their needs are, and what approaches you might want to try out through crafting a good survey. We'll discuss what topics to include, what to leave off, and how to interpret the results. This session will equip you with all the information you need to approach the art of writing a great book club survey.

Speaker:

Lindsay Hanson, Data Analysis Librarian, Sno-Isle Libraries (WA)
Session 4 |
3:30-4:00 PM ET |

Choosing the Right Book: A Panel Discussion

If it feels like a lot is riding on choosing the right book, you'd be correct! Learn how to choose the right book at the right time for the right group and get all the pieces aligned to ensure the success of your new book club. This discussion will feature two veteran book club facilitators who will share what works and what doesn't when it comes to picking a book for your book club.

Speakers:

Brian Kenney, Director, White Plains Public Library (NY)
Jo Anne Willis, Branch Manager, Chicago Public Library
WEEK 2: Thursday, November 8, 2018
Session 1 |
2:00-2:45 PM ET |

Novel Approaches to Book Clubs: Lightning Rounds!

In this information-packed, fast-paced series of sessions, you'll learn about unique and original ideas for book club themes, including "The Short Attention Span Reading Club," "The Read Aloud Book Club," and "Intergeneration Book Groups." Learn what goes into planning, marketing, and executing these innovative themed clubs at your library!

Speakers:

Cynthia Berk, Short Attention Span Reading Club Founder, Patagonia Public Library (AZ)
Kathleen Longacre, Adult and Teen Services Librarian, Naperville Library (IL)
Holly Turner, Youth Services, Lucius Beebe Memorial Library (MA)
Session 2 |
3:00-3:30 PM ET |

Managing Group Dynamics

No matter the form your book club takes, group dynamics are key in running a successful group. Learn the top tips for managing your group, including establishing your role (facilitation vs hands-on participation), tips for driving involvement, and ideas for engaging all group members in the journey, from leaders to observers, and everything in between.

Speakers:

Marianne Paterniti, Book Group Team, Darien Library (CT)
Pat Sheary, Book Group Team, Darien Library (CT)
Session 3 |
3:30-4:00 PM ET |

Measuring Your Success

When evaluating your book club, it's important to assess both how the particular book club format works (single groups or community reads, homegrown or online, librarian-led to patron-led), and what the book club does for the library and the community. In this session, you'll hear all about how to approach measuring your success, from collecting feedback to analyzing it, and how to turn your findings around and launch an even better book club.

Speaker:

Ted Kavich, Program and Educational Services Manager, Fairfax County Library (VA)

Learning Outcomes:
Through this interactive course, you'll learn from experienced leaders how to develop and execute a successful book club at your library or school, including how to:

Assess what kind of book club will work best for your audience by tapping into what your community wants.


Create a plan for your book club, from survey development to marketing to measurements of success.


Discover and use available resources to build out a dynamic program that incorporates available media and tie-ins to help support your efforts


Choose a unique, fresh approach to your book club.


Manage group dynamics and facilitate, rather than lead, your book club discussions.

Live Interactive Sessions: Thursdays: October 25 and November 8. Plus, self-guided options and additional bonus content offered so you can follow along at your own pace. Certificate of Completion Provided.

Also Available On Demand!
Can't make a live session? All sessions will be available to you on demand following the initial broadcast.