Description
MEET. GREET. EAT BUGS!!!
Entomophagy ˌɛntəˈmɒfədʒi/ - the practice of eating insects for food.
Insects are eaten in 80% of the world's countries. Come along to this public entomophagy expo to find out why the rest of the world is "bugging out" for bugs!!
Beyond being a regular game show prop, bugs should be a serious part of our future food conversation. Nutritious and sustainable, the research clearly shows that entomophagy is something that the western world needs to consider to be able to manage the growing population and increasing demands on natural resources.
At this event you will be able to:
Meet Australia's passionate bug eaters, farmers and enthusiasts;

Understand how insects are farmed commercially;

Learn about the financial, environmental and health benefits of insects as feed and food;

Sample a range of insects and insect based products;

Kid friendly activities - bug crafts, live insects;

Learn about matching insects with wine (over 18 yrs age only). Organic Wines by Angove Wines.
FAQs
Are there ID or minimum age requirements to enter the event?
This is a family friendly event however, we have partnered with Angove Wines to offer a wine:insect matching experience. Photo ID will be required to participate. There will be a small charge of $5 pp for the wine tasting experience.
What are my transport/parking options for getting to and from the event?
The Open State Dome pop-up venue will be in Victoria Square, Adelaide CBD. This is easily accessible by public transport. Look for Tarndanyangga or Victoria Square stop. This is accessible by free tram or is approx. a 10 minute walk from Central Adelaide Train Station or King William Street. Public parking is available around the precinct and being a public holiday, should be a flat rate regardless of time. For more information go to www.parkopedia.com.au or http://www.cityofadelaide.com.au/online-services/parking/. T
Can I get a refund if I can't go?
Unfortunately no. We are keeping the costs of this event as low as possible to ensure that as many people can attend as possible. We are not in a position to be able to offer any discounts or refunds for this event. We apologise for any inconvenience.
Will insects make me sick?
It is very unlikely. Probably also depends on how many you eat!! However, people who have allergies or intolerances to shellfish are warned that eating insects may produce similar reactions. We discourage you from sampling insects if you have a history of allergies to shellfish.
Social Media
Follow the latest news on social media using the hashtage #OpenState17, #FutureFood and #Innovation.
Facebook: /kaizenmgt, /OpenStateSA, search"bug expo"
Twitter: @kaizenmgt1 @OpenStateSA #adlbugexpo
Instagram: @OpenStateSA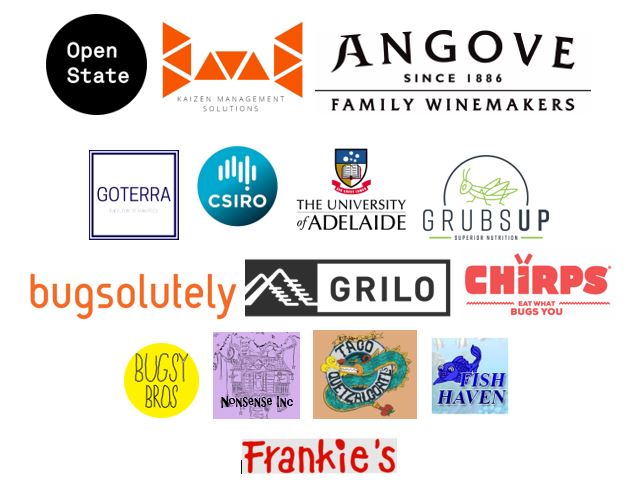 Date and Time
Location
Open State DOME
Tarndanyangga (Victoria Square)
Grote Street
Adelaide, SA 5355
Australia
Refund Policy