Holy Hellmouth, Buffy Prom is back!!! Kristin & Jenny are hosting a 2-night hootenanny at Torrance High aka SUNNYDALE. HIGH. SCHOOL. What!?!
About this event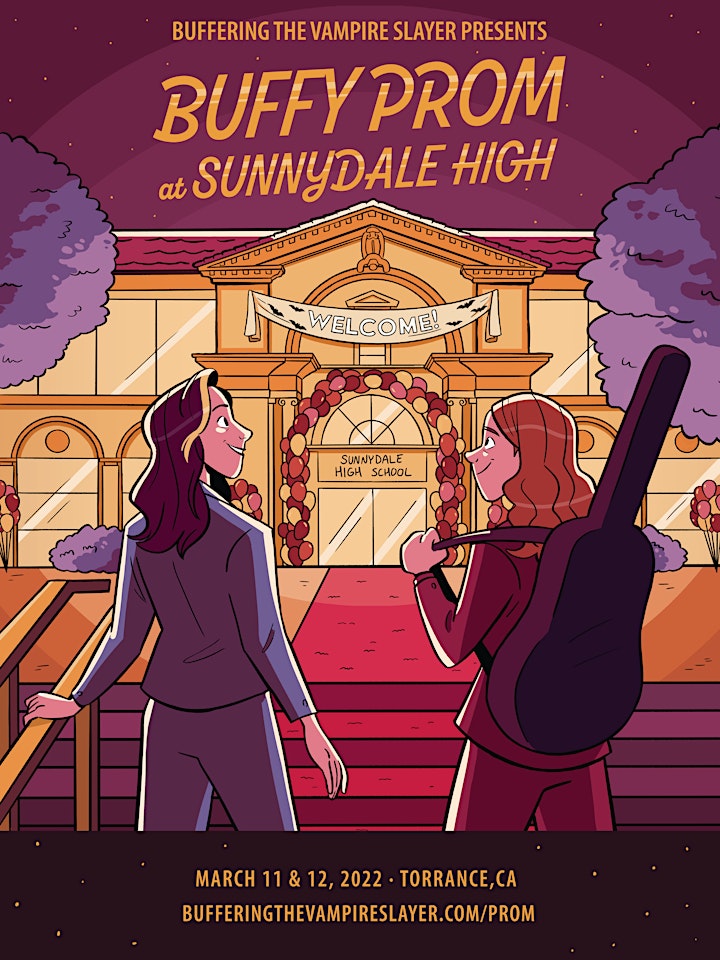 ARE WE EVEN SERIOUS?!
(WE HAVE NEVER BEEN MORE SERIOUS.)
For two long years we have waited to be back in each other's 90s infused, vampire loving embraces at the next Buffy Prom, and not only are we are finally back... but we are hosting the two-night event right at the very place where Buffy and Angel danced to Wild Horses: Sunnydale High School.
Yes, you heard us right: the incredible folks at Torrance High (aka the filming location of Buffy the Vampire Slayer's "Sunnydale High") have welcomed us to their campus to have the biggest and best Buffy Prom since 1999.
(We actually hope ours is better and comes without hellhounds).
____________________________________________________________________
FRIDAY NIGHT MARCH 11 2022
An Evening with Buffering the Vampire Slayer
7pm - 9pm | General Admission | Doors 6:30pm
Join us in Torrance High School's state-of-the-art theater for a live recording with special guests, live Buffering music from Jenny Owen Youngs, and some of our favorite Buffy-themed topics of conversation. Consider it a Buffering the Vampire Slayer Variety Show! You'll find the entrance to the theater at the base of the stairway made famous during The Graduation Day Battle. Not at all a big deal.
One of our very special guests this evening will be Evan Ross Katz! Together we will celebrate the release of his book Into Every Generation a Slayer is Born: How Buffy Staked Our Hearts, which "explores Buffy's cultural relevance in a book that is part oral history, part celebration, and part memoir of a personal fandom that has universal resonance still, decades later."
++ You can add a special, discounted EARLY RELEASE copy of Into Every Generation at checkout and it will come signed by Evan! Signed books will be available at Friday night's event for those who bundle them with their tickets. The book is being released early just for prom-goers — the public will not be able to purchase a copy until March 15.
SATURDAY NIGHT MARCH 12 2022
Buffy Prom at Sunnydale High
7pm - 10pm | General Admission | Doors 6:30pm
Time to dance to 90s music all night long!!! It is the official Buffy Prom and we will be gathering for the festivities outside — in case you missed it — IN THE COURTYARD BY THE ICONIC SUNNYDALE HIGH FOUNTAIN.
Jenny will play live Buffering songs with special surprise guests (and Kristin on glockenspiel, of course), we will drink punch from the classic Buffy Prom Punch Fountain, we will take pictures, and perhaps if we are lucky our ensouled vampire boyfriend will come and join us in a slow dance to Wild Horses.
There will be light snacks, non-alcoholic drinks, and a special prom cake.
___________________________________________________________________________________________
Ticketing: There are two ticketing options. Friday night only, which admits you into the live taping, and the bundled ticket which gets you into Friday & Saturday night. We are not able to offer individual tickets to Saturday night only at this time!
No Alcohol: This event is being held on an *actual* high school campus, which means there will not be any alcohol served on either evening! Saturday night's prom will include light snacks and non-alcoholic drinks (in addition to a prom cake and a punch fountain, obviously).
Parking: Free on-site parking will be made available at Torrance High School. Ticket holders will get more detailed information closer to the event.
Lodging: There is a block of rooms being held at the Torrance Marriott for a discounted rate of $149/night. If you'd like to reserve a room from that block you can follow this link!
COVID Safety: All attendees will either be fully vaccinated or will have received a negative PCR test within 48 hours preceding event. Mouth and nose coverings will be worn by all attendees at all times except when eating or drinking. Saturday's Prom will be held outdoors, and Friday night's taping will be held in a theater that is kept at 50% capacity to ensure that social distancing recommendations can be followed.
Torrance High School is 100% ADA Compliant
Organizer of Buffering the Vampire Slayer presents: BUFFY PROM at SUNNYDALE HIGH