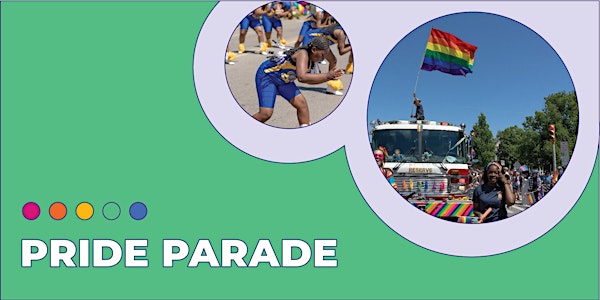 Buffalo Pride Week 2023 Parade Registration
The theme is "Show up. Turn up"! Show up because there's much to fight for. Turn up because there's much to celebrate. See you on June 4.
By Buffalo Pride Week / The Evergreen Foundation of Western New York
Date and time
Starts on Sunday, June 4 · 8am EDT
Location
SUNY Buffalo State University 1300 Elmwood Avenue Lot R-14 Buffalo, NY 14222
Refund Policy
Contact the organizer to request a refund.
Eventbrite's fee is nonrefundable.
About this event
OVERVIEW
LGBTQ+ community and allies, it's your time to shine! Get your finest float and your most fabulous attire ready for Buffalo's 2023 Pride Parade. The theme for this year is: "Show up. Turn up." We show up because there's much to fight for. We turn up because there's much to celebrate.
In years past, the Pride Parade has featured hundreds of organizations showcasing colorful floats and unforgettable performances. We can't wait to march again in the spirit of pride and unity and to see what showing up and turning up for our community means to you.
Special thanks to all of our event sponsors, including Evergreen Health and M&T Bank for their support.
Click here to visit the EVENT WEBSITE for additional information.
DONATIONS
The Evergreen Foundation is committed to keeping the Parade free and open to all participants. However, we hope that you will consider making a donation to help offset the many expenses associated with hosting the Parade, including insurance, security and supplies. Suggested donation amounts are as below:
• Nonprofit Organization: $50
• For-Profit Organization: $100+
PARTICIPANT INFORMATION
DATE: Sunday, June 4
LINE-UP TIMES & LOCATIONS
Parade line up will begin at 8:00 AM at Buffalo State University (1300 Elmwood Avenue, Buffalo NY). A parking lot attendant will be on site to direct parade floats and marchers into the lot. A campus map is located at: BSC_MASTER_MAP_Aug2021 (buffalostate.edu)
Parade participants must arrive no later than 9:00 AM for placement in the parade line-up. However, due to significantly increased parade participation, we STRONGLY encourage that you arrive at 8:00 AM for line-up. The Parade steps-off promptly at 11 AM. Due to limited parking, we also encourage Parade participants to utilize public transportation and ride-sharing services (Lyft, Uber).
PARADE ROUTE
Traveling south on Elmwood Avenue and ending at Allen Street. The block of Elmwood Avenue between Allen Street and Virginia Street will be closed to traffic; floats and marchers will be able to disassemble in this area. Participants and attendees are encouraged to take the NFTA train from either the Allen Street/Medical Campus Station or the Fountain Plaza Station to the Pride Festival at Canalside.
TERMS & CONDITIONS
Per City of Buffalo requirements, the Evergreen Foundation is required to carry liability insurance for the Pride Parade. Consequently, all participants must adhere to the Terms & Conditions listed below as a condition of participating in the Pride Parade. Failure to adhere to these guidelines could result in exclusion from participating in this year's event, exclusion from future events and possible legal action.
BY REGISTERING ONLINE, PRIDE PARADE PARTICIPANTS AGREE TO THE FOLLOWING TERMS & CONDITIONS:
• Participants will line up beginning at 8:00 AM but must arrive no later than 9:00 AM for placement in the parade.
• All drivers must have a valid driver's license and necessary auto insurance.
• PARTICIPANTS shall not consume or use alcohol or illicit drugs while participating in the Parade, including at the assembly site, during line up, on the route, and at the exit site of the Parade.
• PARTICIPANTS are NOT permitted to throw ANY items (confetti, literature, candy, etc.) to spectators. This will be strictly enforced.
• PARTICIPANTS must stay off sidewalks and remain with their group during the Parade.
• Music must be turned OFF at the end of the parade (Allen Street).
• All motorized vehicles MUST be decorated. This is a parade and all participating groups are expected to contribute to a festive atmosphere.
• PARTICIPANTS agrees to INDEMNIFY and HOLD HARMLESS EHS, Inc. and its affiliates, directors, officers, agents, employees, volunteers from and against any and all losses, liability, claims, costs, damages, and expenses (including attorneys' fees) incurred in connection to PARTICIPANT'S participation in the Parade. PARTICIPANT shall notify COORDINATOR promptly after becoming aware of any such claim.
• Evergreen Health Equity Statement: Evergreen Health and its affiliates support the LGBTQ+ community, communities of color, people who use drugs and those living with HIV and other chronic illnesses. We take an inward approach to addressing diversity, equity and inclusion within our culture, policies and practices, so that we can best serve our patients and the community in an equitable way. As a nonprofit health care organization, it is critical that our community partners, sponsors, vendors and everyone who works for and with Evergreen understand and share our values. We all play a role in creating a more inclusive society and it is our goal to align with those who are committed to diversity, equity and inclusion. As an entity or partner/sponsor/donor participating in Buffalo Pride Week parade and festival it means that you and your business adhere to and share the same values as Evergreen and its affiliates. It means that you hold your business accountable to the same standards of equity and support for underserved communities.
About the organizer
Buffalo Pride Week is a joyous commemoration of LGBTQ+ history and culture and an annual display of the strengthening power of open-arms diversity. It is an opportunity for our community, friends and chosen families to join together and affirm our message of love, inclusivity and unity.
The Evergreen Foundation of Western New York – an affiliate of Evergreen Health – coordinates and manages the Buffalo Pride Week website, as well as the Pride Parade and Pride Festival as a way to give back to the communities served by Evergreen Health and its affiliate organizations.