Buffalo Gals | Black Hills - August Round-Up

Tuesday, August 23, 2016 from 5:30 PM to 7:30 PM (MDT)
Event Details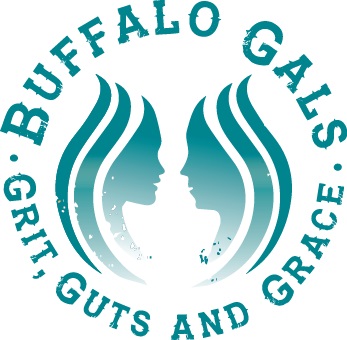 Oh Buffalo Gals won't you come out and play with us at our August Round-Up?!
At a time of exceptional divisiveness, Buffalo Gals is proud of the diversity of women who gather to support one another and discover opportunities to work together. Developing deeper relationships with one another is key to our healthy community, join with us and find your role, opportunity or network of support for topics important to you - we look forward to seeing you on Tuesday August 23rd 5:30pm - 7:30pm!
Beyond Physical Culture is now open in Rapid City and we are proud to have them as our sponsor for the August Round Up!
Beyond Physical Culture brings a fresh fitness experience to Rapid City that is more than fitness. Physical Culture refers to a lifestyle. It is movement, flexibility, strength, agility, nutrition, hygiene, personal philosophy or spirituality, and martial arts. It can be as unique to each individual as fingerprints. The goal of the Physical Culturist is to strive toward optimum potential of the human form, whether blessed by great gifts or great struggles. Beyond Physical Culture is for all body types and abilities!!
Discover more about this unique experience at www.beyondphysculture.com
And be sure to join us for the August Round Up Tuesday the 23rd at Beyond Physical Culture beginning at 5:30!!!
We will have great food, punch and a fantastic opportunity to connect with gals with grit, guts and glimmering grace!!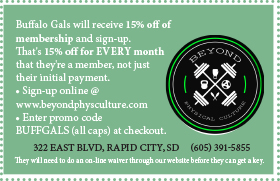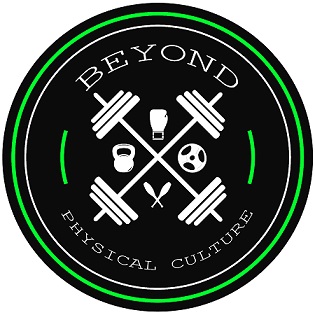 When & Where

Beyond Physical Culture
324 East Boulevard
Suite 120
Rapid City, SD 57701


Tuesday, August 23, 2016 from 5:30 PM to 7:30 PM (MDT)
Add to my calendar
Organizer
Buffalo Gals
Buffalo Gals - We have Grit, Guts, and Glimmering Grace. We are committed to creating a culture of excellence. We have vision, persistence and tenacity. We are the torchbearers. We are champions of women. We are committed to taking care of one another, standing up for one another, and supporting one another's dreams and goals.
We draw upon a pioneering spirit to forge opportunities for a better way forward, always honoring those who have gone before us and encouraging and being of service to those who are coming with us and after us.
Buffalo Gals is a community collaboration initiative of the FUSION Foundation with a mission of creating a culture for excellence and discovering new co-creative community leadership models o
The FUSION Foundation serves individuals and organizations who desire to be the change they wish to see in the world.
Mission and Vision Statement:
The FUSION Foundation is a 501c3 community organization focused on educating, empowering and inspiring local actions with a global vision. Our goal is to transform communities of conflict into communities of collaboration and creativity using the tools of the heart with stories - to build bridges matching needs with resources and resources with needs in our communities. 
The FUSION Foundation connects ancient wisdom with emergent needs to educate, empower and inspire individuals to bring forth a thriving, just, sustainable local communities in a global world.
Buffalo Gals | Black Hills - August Round-Up