Buena Vista Bike Fest

Saturday, May 21, 2011 at 7:00 AM (MDT)
Event Details
13th Annual Buena Vista Bike Fest - The most luck you can have above 10,000 feet!
The beautiful century route goes North to Leadville, along the scenic rolling hills of Turquoise Lake Road, around the Mineral Belt Trail passing aspen groves and conifer forests, meandering through the historic Leadville Mining District, and back to Buena Vista in the shadows of Colorado's highest mountain peaks. Nearly all of the climbing is completed over the first 60 miles of the ride, with the last 40 miles essentially downhill to flat! Riders also have options to take shorter routes including a 35 miler, a 50 miler, and a "metric century" (62 miles) while still enjoying the Collegiate Peaks' magnificent scenery.
BVBF is sponsored by the Colorado Springs Cycling Club, the Chaffee County Chamber of Commerce and the Bristol Brewing Company of Colorado Springs. The Colorado Springs Cycling Club prides itself in putting on one of Colorado's finest events. We have been told by our riders that our rest stops are the best of any ride they have ever done. Our routes are well covered with SAG vehicles. For your safety, the Chaffee County Search & Rescue provides EMT support.
BVBF 2011 Post Ride Celebration will be highlighted with:
- Live music by "Grass It Up", a bluegrass band with far reaching musical skills and interests
- Bristol Brewing Company of Colorado Springs
- Vendor Expo

Sorry We Are Sold Out for 2011. We have a waillist and we will attempt to fill vacancies from the waitlist through 6PM Sunday, May 15th.  

BVBF 2011 Custom Ride Jersey by Primal Wear:
March 15th was the final day to order a jersey. There will be a limited selection of men and women sizes available at event packet pick-up for $65 on a first come first serve basis.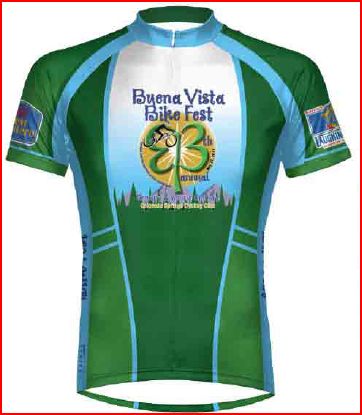 Organizer
Colorado Springs Cycling Club