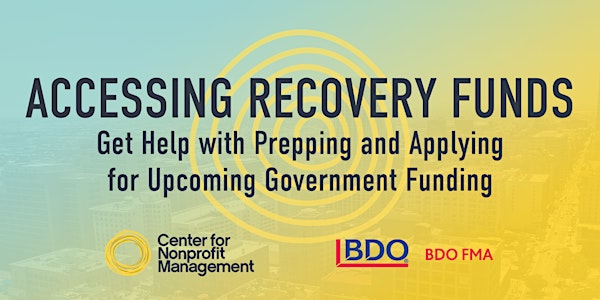 Budgeting & Reporting for Government Funded Organizations
Learn about budgeting and reporting best practices for organizations that receive government funding.
About this event
This workshop focuses on key concepts and best practices in budgeting and financial performance management. We'll discuss the steps of a well-designed budget process that facilitates programmatic, strategic, and fiscal discussions among the leadership team and explore internal and external financial monitoring practices that can support organizations as they apply for and manage federal funds.  
The Center for Nonprofit Management (CNM) and its partner BDO FMA are ready to assist organizations in accessing, applying for and managing current and upcoming American Rescue Plan (ARP) funding opportunities to serve LA County communities most impacted by COVID.  We are especially looking to engage BIPOC-led and BIPOC-serving organizations operating under a budget of $2.5M in this effort to ensure equitable access to funding.
Key focus areas for this workshop will include:
How government contracts may impact an organization's budget and cash flow 
Types of budgets and levels of planning at an organization 
Financial monitoring best practices to support the management of government funds 
Who Should Attend: All staff members of LA County nonprofit organizations who are interested in learning more about preparing their organizations to apply for current ARPA contracting opportunities. This event is open to staff of nonprofit organizations looking to serve Los Angeles County communities most impacted by COVID. 
Instructors
Gina McDonald, CPA - Managing Director, BDO FMA
An experienced accountant, Gina is known for her ability to translate highly technical knowledge into relatable concepts and actionable terminology for nonprofit leaders. In addition to leading project teams, she frequently leads the development and delivery of trainings on technical accounting and other matters affecting nonprofits, and is a lead instructor and curriculum developer for the Certified Nonprofit Accounting Professional (CNAP) program. Prior to joining BDO FMA, Gina spent 17 years in public accounting and served as Director of Finance at the Greater Providence YMCA.