Description
To celebrate the release of Gentleman Practice, his third book, Buddy Wakefield will be stopping by the Hollywood Palms Cinema in Naperville on March 1st to give the Chicago area one last taste of his unflagging honesty and wideopen spirit.
He calls it "one last tour for all the marbles," because this may be the last chance to see him perform before he settles down to create larger projects that will keep him from touring for a while. Don't miss out on this chance to see one of the most energetic and dynamic performers on the scene today.
Teen Writers and Artists Project is honored to be a part of bringing this history making all ages show to the west suburban audience for the low price of $10 plus the purchase of 1 item from the Hollywood Palms menu.
The opening act includes performances by Teen Writers and Artists Project members Kitty Mobley, Qocavib Revolorio, and the ICHS Poetry Team.
Hollywood Palms is set back from Rte 59 on the Northeast corner of Rte 59 and New York St./Aurora Ave.(Behind the Macy's Outlet store). The best entrance is on the North side of Aurora Ave at the 1st traffic light east of Rte 59. Enter the West Ridge Court Shopping Center. when the road deadends at the strip mall, follow it to the left. Hollywood Palms is located on the right.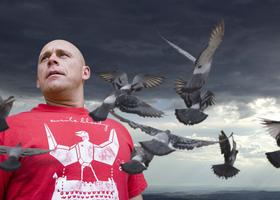 IN CASE YOU DIDN'T KNOW:
BUDDY WAKEFIELD is the two-time Individual World Poetry Slam Champion featured on NPR, the BBC, HBO's Def Poetry Jam, and most recently signed to Ani DiFranco's Righteous Babe Records. In 2004 he won the Individual World Poetry Slam Finals thanks to the support of anthropologist and producer Norman Lear then successfully defended that title at the International Poetry Festival in Rotterdam, Netherlands against the national champions of seven European countries with works translated into Dutch.
In 2005 he won the Individual World Poetry Slam Championship again and has gone on to share the stage with nearly every notable performance poet in the world in hundreds of venues internationally from The Great Lawn in Central Park and Scotland's Oran Mor to San Quentin State Penitentiary, House of Blues New Orleans and First Avenue.
In the spring of 2001 Buddy left his position as the executive assistant at a biomedical firm in Gig Harbor, WA, sold or gave away everything he owned, moved to the small town of Honda Civic and set out to live for a living, touring North American poetry venues through 2003. He still tours full time and considers annual Revival tours with Derrick Brown and Anis Mojgani, as well as separate tours with Ani DiFranco, to be the highlight of his career thus far.
Born in Shreveport, LA, mostly raised in Baytown, TX, now claiming Seattle, WA as home, Buddy has been a busker in Amsterdam, a lumberjack in Norway, a street vendor in Spain, a team leader in Singapore, a re-delivery boy, a candy maker, a street sweeper, a bartender, a maid, a construction worker, a bull rider, a triathlete and a sucker for anything unfolding. And for peanut butter. Oh, and hygiene. Wakefield is a writer, the elated son of a guitar repair woman, wingman of Giant Saint Everything, and remembers Kirkwood, NY. Sanborn too.
Buddy, a Board of Directors member with Youth Speaks Seattle, is honored to be published internationally in dozens of books with work used to win multiple national collegiate debate and forensics competitions. An author of Write Bloody Publishing, Wakefield is known for delivering raw, rounded, high vibration performances of humor and heart.
ACCLAMATION
"The most spellbinding, full contact, no holds barred spoken word display I've ever experienced."
–Mark Fabionar, Multicultural Center Director, Cal Poly San Luis Obispo