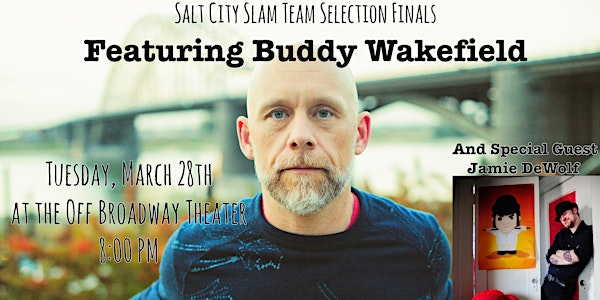 Buddy Wakefield at Salt City Slam Finals
When and where
Location
Off Broadway Theatre Inc. 272 Main Street Salt Lake City, UT 84101
Refund Policy
Contact the organizer to request a refund.
Description
Salt City Slam, SLC's longest running poetry slam, will be sending a team to represent Salt Lake at the National Poetry Slam! The top 5 competitors will be Salt Lake's official poetry slam team! These poets have been competing all year to earn enough season points to take their place here, at finals stage. These poets are the best of the best spoken word artists in the salt lake valley! Hosted by none other than Jesse Parent!!

Salt Lake Competitors:
RJ Walker- 55

Shannielle- 31

Debbie- 29

Ashton Bell- 27

Bryce Wilson-27

Jose Soto- 27

Rebeca Mae - 23

Monica- 19

Alex Ostler- 17

Brian Earl- 16
Sacrifices
Tayven Godfrey
Kari Lindsey
Before the slam kicks off, we'll have our featurd poets, Buddy Wakefield and Jamie DeWolf!!

BUDDY WAKEFIELD is a three-time world champion spoken word artist featured on the BBC, HBO's Def Poetry Jam, ABC Radio National and signed to Ani DiFranco's Righteous Babe Records. In 2004 he won the Individual World Poetry Slam Finals thanks to the support of anthropologist and producer Norman Lear then went on to share the stage with nearly every notable performance poet in the world in over 1500 venues internationally from The Great Lawn of Central Park, Zimbabwe's Shoko Festival and Scotland's Oran Mor to San Quentin State Penitentiary, House of Blues New Orleans and The Basement in Sydney, Australia.
In the spring of 2001 Buddy left his position as the executive assistant at a biomedical firm in Gig Harbor, WA, sold or gave away everything he owned, moved to the small town of Honda Civic and set out to live for a living, touring North American poetry venues through 2003. He has not yet stopped.
Having spent most of his career based in Seattle, WA, now claiming Los Angeles, CA as home, Buddy has been a busker in Amsterdam, a lumberjack in Norway, a street vendor in Spain, a team leader in Singapore, a re-delivery boy, a candy maker, a street sweeper, a bartender, a maid, a construction worker, a bull rider, an incredibly slow triathlete and a facilitator at Quantum Learning Network. He loves peanut butter, power napping, chopping wood and Vipassana meditation. Wakefield is a writer, elated son of a guitar repair woman, wingman of Giant Saint Everything and pays attention.
An author at Write Bloody Publishing and an original Board of Directors member with Youth Speaks Seattle, Buddy is published internationally in dozens of books with work used to win multiple national collegiate debate and forensics competitions. Wakefield, who is not concerned with what poetry is or is not, delivers raw, rounded, disarming performances of humor and heart.
JAMIE DEWOLF is a writer, performer, film director, teaching artist, show producer and circus ringmaster from Oakland, CA. Known for his fast paced mix of stand up, theater and hip hop with a style called "over-the-top, raw and raucous" with "moving, intense verse", DeWolf "brings that same inimitable, avant-garde style to everything he does."
He first exploded into national prominence in the competitive lyrical battles of poetry slams, winning his first title on the Oakland Slam team in 1999. The team went on to win the Western Regional Championships and made the Finals Stage the same year. DeWolf went on to become the Oakland and Berkeley Grand Slam Champion, and the champion of the Lyrical Death Match, Ill List, Chi-Town Classic, the Battle of the Bay, Indie Slam Showdown, the $1000 Berkeley Grand Slam, and the War of Words Tag Team Bout. He won his way onto Bay Area slam teams every year he competed, and is also an Individual finalist for the International World Championship and the New Word Series.